Centennial Olympic Park
Centennial Olympic Park spans 21 acres, offering a picturesque public space for visitors to enjoy. Centennial Olympic Park is one of the Three Best Rated® Public Parks in Atlanta, GA.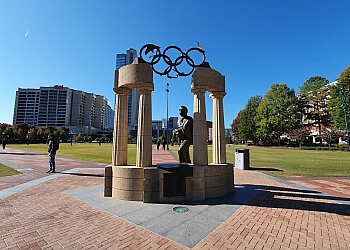 The park features a well-maintained garden and expansive lawns and has recently undergone renovations aimed at enhancing the overall visitor experience. Throughout the year, Centennial Olympic Park plays host to a variety of exciting events. In the summer, it is known for its popular music concert series, while an annual Independence Day concert and fireworks display draw crowds of spectators. The park also boasts a pedestrian plaza and multi-level indoor and outdoor facilities, providing ample space for gatherings and activities. For the convenience of visitors, free wireless internet access is available in and around the Centennial Olympic Park's Visitor Center. This allows individuals to stay connected while immersing themselves in the park's serene surroundings. The park offers ample green spaces, making it ideal for family fun, picnics, and playground adventures. Its well-maintained atmosphere contributes to tranquility, allowing visitors to relax and unwind amidst the beautiful surroundings. Overall, Centennial Olympic Park is a cherished destination in Atlanta, providing a peaceful retreat within the bustling cityscape and offering a range of amenities and events that cater to diverse interests and ages.
Kids Ground

Open Space

Amphitheater

Museum

Aquarium

Tables

Monuments

Walking Trails

Football

Slides

Playgrounds

Gardens

Green Areas

Waterfalls

Event Conducting

Sports Areas

Stone Benches

Dog Parking

Bike Riding

Pavilions

Statues

Fountains & Shelters
Really chill place to go in the weekend, especially when there's an event. Quite fun to see so many people enjoying the city in the park.
Nice and peaceful place to walk after exiting the aquarium. Fun to see where some of the Olympic events took place.
I love it, it's perfect to go with your family. You can go for a walk and it has everything nearby restaurants, playground, stores and bathrooms.
Nearby Public Parks in Atlanta: