Joe Muer Seafood
Joe Muer Seafood is a renowned seafood establishment in Detroit, upholding a rich legacy of exceptional dining and service that originated in 1929. Joe Muer Seafood is one of the Three Best Rated® Seafood Restaurants in Detroit, MI.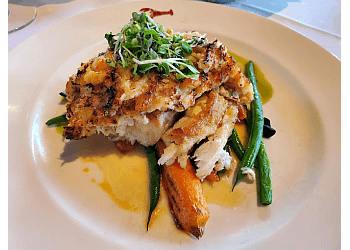 With its remarkable ambiance, the restaurant offers an array of exclusive brunch dishes that are truly one-of-a-kind. Patrons can indulge in a delightful happy hour menu boasting delectable options such as Pommes Frites, Steamed Mussels, Asian Chicken Wings, Point Judith Calamari, and Margarita Flat Bread Pizza. For an extraordinary dining experience, guests have the opportunity to reserve the "Chef's Table" in the kitchen, where they can enjoy the company of twelve fellow culinary enthusiasts. The menu features a range of fresh seafood, hand-cut steaks, sushi, and cocktails and is complemented by the unparalleled service of the legendary dining team. The restaurant also provides a private dining room with a capacity to accommodate up to 175 guests. Joe Muer Seafood caters to diverse dietary preferences with their vegetarian, vegan, and gluten-free menu options. Moreover, visitors can relish the finest riverfront views in Detroit while savoring their meals. Takeout service is also available for those who prefer to enjoy Joe Muer Seafood's offerings at their convenience.
MENU: MODERN CLASSICS: Lobster Corn Dogs

Spicy Tuna Tartar

Seared Sea Scallops

Smoked Salmon Avocado Toast

SOUPS AND SALADS: Boston Clam Chowder

Lobster Bisque

Spring Asparagus and Martha's Vineyard Salad

CHALKBOARD FEATURES: Oven Roasted Barramundi

Seared Georges Banks Scallops

Grilled Atlantic Swordfish & Spice Crust Ahi Tuna
From the moment we walked in, the service was five star. Everyone at the restaurant is bought in to the culture of an incredible customer experience. The food was all I could ask for. We had the local walleye and the sea bass. Oysters as appetizers and the beet salad. I am still raving about the food. And the coconut creme cake to finish it off was incredibly perfect. We ate in the evening and the view of Canada across the water was impeccable. When I am in Detroit again, I absolutely plan on an encore, as there was so much more I wanted to try.
One of the fanciest restaurants I've been to, with a great atmosphere and excellent service. They have daily specials and the one i got was amazing. They even had an off menu special salad that day. It was literally the best salad I've ever had.
Overall food and service was excellent! Grilled Atlantic Swordfish was my favorite, great flavors and large portions. We also had a mix of east and west coast oysters on a half shell, highly recommend!
Dinner:
Appetizers & Starters Starts from $27
Modern Classics Starts from $25
Soups & Salads Starts from $13
Chalkboard Features Starts from $47
Entrées Starts from $69
Modern Classics Starts from $44
Prime Cut & Poultry Starts from $63
Shellfish Starts from $75
Side Dishes Starts from $9
Lunch:
Appetizers & Starters Starts from $27
Modern Classics Starts from $25
Soups & Salads Starts from $13
Sandwiches Starts from $37
Mon-Thu: 11:30am - 10pm
Fri: 11:30am - 10pm
Sat: 4pm - 10pm
Sun: 3pm - 9pm
Nearby Seafood Restaurants in Detroit: