1st Choice Service Inc.
1st Choice Service Inc. 1st Choice Service Inc. is one of the Three Best Rated® Septic Tank Services in Charlotte, NC.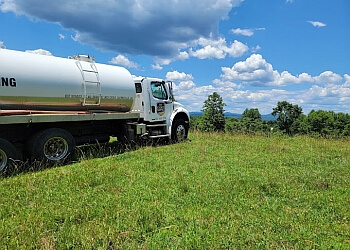 is a reputable family-owned business with almost three decades of experience in the industry. They are dedicated to providing prompt and professional service to both commercial and residential customers. Specializing in all aspects of septic system installations, repairs, and maintenance for both alternative and conventional systems, 1st Choice Service Inc. offers comprehensive solutions for their clients. Their primary objective is to reach and serve as many consumers as possible, striving to positively impact industry standards by actively educating customers and the community. The company holds the necessary licenses, certifications, and insurance to operate in the industry, providing customers with peace of mind. Furthermore, they understand the importance of immediate assistance, offering 24-hour emergency service to address urgent situations.
Septic Tank Pumping

Maintenance Plans

Point-Of-Sale Inspection

Drain Cleaning

Hydro-Jetting

Trenchless Pipelining

Sub-Surface Operations

Sewer Repair

System Locate Service

Sewer

Ejector

Effluent Pumps

Control Panel and Alarm Installation

Excavation & Sitework
They responded almost immediately to my emergency call! Kind and courteous and took the time to educate me on the problem and documented well for my insurance company. Most grateful!
I used them to clean out my septic tank. $300 , Very nice professional guys ! They checked over my system and gave us great advice for repairs. I recommend 10/10
1st choice services was great. They responded quickly. Did a great job. They kept us informed on what they were doing. They also informed us of what they may need to do, should the situation be worse than expected. Great customer service. Great price. Very understanding. I would recommend them to anyone need the services they offer.
Discount
$10 Off For Septic Pumping Services Available for Seniors, Military, Law Enforcement, & Disabled
Nearby Septic Tank Services in Charlotte: