Carolina Septic Pro
Carolina Septic Pro stands out as one of the premier septic system service providers serving Charlotte and the surrounding areas. Carolina Septic Pro is one of the Three Best Rated® Septic Tank Services in Charlotte, NC.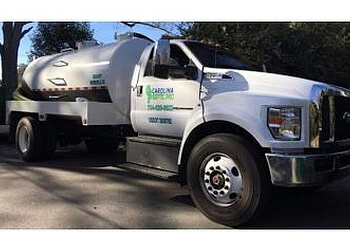 Their main focus is to address your plumbing needs efficiently and promptly. With a strong commitment to professionalism, they deliver top-quality plumbing services. The team consists of highly trained and skilled plumbers who are dedicated to providing the best service possible. You can rely on their experienced plumbers to possess the necessary expertise and knowledge required to effectively maintain your septic tank system. Ensuring the optimal functionality of your septic tank system is their utmost priority. The experienced technicians go the extra mile to ensure that the area is suitable for the septic system, and every aspect of the system fits together seamlessly. Carolina Septic Pro offers comprehensive septic tank services, including septic system maintenance, septic inspection, and septic tank pumping, to ensure that your system is back up and running smoothly.
Septic Inspection

Installation

Maintenance

Pumping

Cleaning

Land Clearing Services & Repair
Carolina Septic Pro team was very professional and helpful. They literally got the job done and was very much informative while doing so! My septic tank needed to cleaned and a couple other small things but they got the job done in a timely manner! Thank you guys so much.
David was the best. Ahead of schedule, knowledgeble and very friendly. Helped us out and got us all squared away.
Called for septic issue, team was there within a few hours and had issue corrected in an hour. Service team was very knowledgeable. Would highly recommend.
Nearby Septic Tank Services in Charlotte: