Corey Pollard - COREY POLLARD LAW
Corey Pollard is a highly acclaimed Virginia disability lawyer committed to ensuring that victims receive the rightful compensation, medical treatment, and disability benefits they are entitled to. Corey Pollard - COREY POLLARD LAW is one of the Three Best Rated® Social Security Disability Lawyers in Richmond, VA.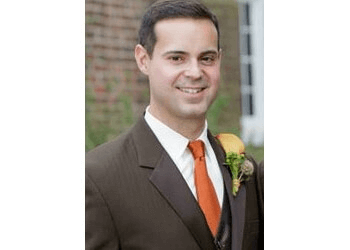 He earned his Juris Doctorate (J.D.) from the University of Richmond School of Law with honors. Corey specializes in assisting clients in obtaining the justice they deserve for work-related injuries and life-altering disabilities. During these challenging times, his team demonstrates compassion, extensive knowledge, and valuable resources to aid in your healing and recovery journey. Their social security disability lawyers will expertly guide you through every step of the application process and, if necessary, continue to advocate on your behalf during the appeals process passionately. From properly filing for social security disability to fighting for your rights throughout the entire journey, Corey Pollard and his team are dedicated to supporting you. Don't hesitate to schedule a free consultation to discuss your case and explore the options available to you.
Social Security Administration

SSD Insurance

Disability Spouse's

Child's and Parent's Benefits

Application Process

Disability Insurance Benefits & Supplemental Security Income
We had our Social Security ALJ hearing yesterday and Corey Pollard represented my adult son with autism. Regardless of the outcome, the services given by Corey gave us hope and security in these very stressful "David vs. Goliath" events that can happen in your lives. We first called a law group that advertised on TV, after taking time sending them our info, I had a very chirpy woman give me a call and told me they would not take the case. Luckily we found Corey Pollard at Jenkins, Block, and associates. His personal attention and that of his colleagues made us feel comfortable throughout the process. They compiled our paperwork and all of the medical paperwork from numerous practices and Corey had a game plan ready for the hearing. Like I said, we do not know what our outcome will be, but observing Corey at work we have a very positive outlook. We were devastated when the first lawyer would not represent us as you expect the next one you ask to tell you the same and you feel hopeless. Regardless of the outcome, Corey took the time to help out our family, not just find a case to make the firm money. Thank You Corey from the McKie family.
I am very grateful for the help I always received from Corey Pollard, and his team. Anytime, I needed they were always available to help quickly and with a high level of professionalism. They explained everything in great detail and provided excellent customer service. During the whole process they kept me well informed, making me feel at ease, and making sure everything was taken care of in a timely manner. They were always willing to go above and beyond. I am well pleased with the outcome of my case, and would highly recommend Corey Pollard and his team.
Mr. Corey Pollard and his team are the best they are very professional and dedicated to solving your case in the best manner there is, coming into the worker's comp case I was extremely nervous being that I've never dealt with anything like this before but Mr. Pollard and his team took very good care of me. And assistant Miss Erica was extremely helpful in communicating with me and also keeping me updated with everything. If anyone has any type of workers comp case I recommend Mr. Pollard and his team would definitely take care of you! Thank you so much.
Selected as one of the Best Lawyers in America – Workers Compensation for Claimants 2020 - 2023
https://cpollardlaw.com/about-corey-pollard/
Nearby Social Security Disability Lawyers in Richmond: