Thomas M. Farrell, IV - FARRELL DISABILITY LAW
Thomas M. Thomas M. Farrell, IV - FARRELL DISABILITY LAW is one of the Three Best Rated® Social Security Disability Lawyers in Jacksonville, FL.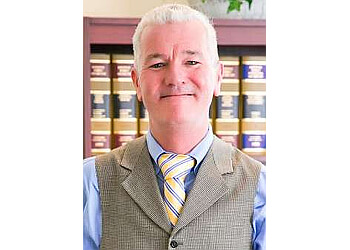 Farrell IV, the esteemed founder and principal attorney of Farrell Disability Law, spearheads a prominent law firm located in Jacksonville. This reputable firm extends its invaluable services to clients throughout Florida and southern Georgia, aiding them in securing benefits from disability insurance policies or the Social Security Administration. Thomas specializes in handling cases involving both ERISA and non-ERISA plans, state disability retirement, and coverage disputes encompassing life insurance, as well as accidental death and dismemberment (AD&D) policies. Recognized as a distinguished leader in his field, Thomas Farrell maintains an unwavering commitment to advancing the legal profession and remains actively engaged with various local, state, and national organizations. Furthermore, he is proficient in assisting Spanish-speaking clients, ensuring that language barriers are overcome. With a wealth of experience, Thomas Farrell and the entire team at Farrell Disability Law provide steadfast support to clients in Florida and southern Georgia who have encountered denials of disability benefits. As part of their commitment to client satisfaction, they offer a complimentary consultation to help individuals gain insights into their legal options and potential courses of action.
Disability Insurance

Supplemental Security Income

Long-Term Disability

SSD Denials

Social Security Disability Insurance

Accidental Death and Dismemberment and Life Insurance Claims Denials

Retirement System Regular Disability & Line of Duty Disability Claims
I highly recommend Mr. Farrell as o e of the best disability attorney. He was working in my interest and was able to win my case. He and his associates communicated with me on a regular basis and kept me updated in all aspects. I would highly recommend this company if you needed disability help.
Throughout the entire process Mr. Farrell was extremely professional. I love that he explained all of my options to me up front before he decided to take on my case and he answered all of my questions clearly. That initial call I definitely felt he took the time to answer my needs. Even though we ended up deciding that it was in my best interest not to move forward with the case I liked that he gave me a phone call and we talked it out. Very professional and easy to work with.
I am so grateful for all the help, kindness and patience. They were always professional and I never doubted they had my best interest in mind. My results were positive and I couldn't have done it without the Farrell team.
Florida Super Lawyer in 2015, 2016 and 2017 by SuperLawyer magazine
Mon-Thu: 9am - 5pm
Fri: 9am - 12pm
Sat & Sun: Closed
Nearby Social Security Disability Lawyers in Jacksonville: