Who's On Third
Who's On Third is a timeless American sports pub that embodies the essence of relaxation located in the vibrant heart of Downtown Milwaukee. Who's On Third is one of the Three Best Rated® Sports Bars in Milwaukee, WI.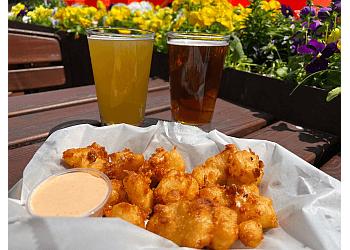 Known for its delectable array of wings, cheese curds, and other quintessential American eats, this establishment also offers a wide selection of craft beers and a tempting weekend brunch menu. At Who's On Third, every seat in the house provides an optimal view of the game, thanks to a large TV screen supplemented by a captivating 120" projection screen. Guests can immerse themselves in the sporting action while savoring their meals and enjoying the lively atmosphere. To enhance the dining experience, the bar offers daily meal and drink specials, ensuring that every day of the week, including Saturdays and Sundays, brings its own unique culinary delights. One of the standout menu items at Who's On Third is their mouthwatering German pretzels, which perfectly complement the bar's range of beverages. Additionally, the establishment goes above and beyond by providing Tailgate trips to exciting events such as Packer games and Alpine Valley concerts. These Tailgate trips offer a comprehensive experience, including delicious eats, refreshing drinks, lively music, and engaging tailgate games like bags and beer pong. For those seeking a private setting, the patio at Who's On Third features a dedicated event hall that can be reserved for various occasions such as birthdays, corporate meetings, video presentations, and fantasy drafts. The best part, The venue offers this private space with complimentary room rent. Happy hours are available from Monday to Friday, allowing patrons to unwind and enjoy discounted drinks during select hours. Whether guests prefer to dine in, take out, or have their food delivered, Who's On Third caters to their preferences, ensuring a seamless and convenient dining experience.
MENU: Chicken Tenders

Wisconsin Cheese Curds

Dry Rub Wings

Loaded Nachos

Grandma's Dip

German Pretzel Basket

Beer Battered Brew City Skinny Fries

Sweet Potato Chipotle Cinnamon Fries

Cod Fish Fry

House Kettle Chips Pulled Pork Sandwich & Texas Mayhem Burger
Fun atmosphere. The blackened chicken wrap was delicious with a decent amount of heat! I ordered the sweet potato fries and they had brown sugar sprinkled on them and came with a marshmallow dip so it was like getting dessert too! They seem to have happy hour / drink specials! Would recommend!
Fantastic, chill sports bar. Great place to watch the World Cup. Nina was my server and she was amazing. She recommended the hummus platter, which was delicious. Definitely will come back.
I'm visiting Milwaukee and stopped in here on a Tuesday morning. Our server was Nina and she provided excellent service and recommended the cheeseburger soup and the blackened chicken wrap which was very good. She was very attentive and overall the place had a great atmosphere and staff. Definitely will be back!
Chicken Tenders $14.95
Wiscnsin Cheese Curds $12.95
Dry Rub Wings $15.95
Loaded Nachos $13.95
German Pretzel Basket $12.95
Beer Battered Brew City Skinny Fries $7.95
Sweet Potato Chipotle Cinnamon Fries $8.95
Cinnamon Pretzel Bites $10.95
House Kettle Chips $6.95
Entrées
Cod Fish Fry $16.95
Mac & Cheese $12.95
Brats:
the Milwaukee Brat $10.95
What's on First Brat $10.95
Mac & Cheese Brat $11.95
Loaded Brat $11.95
Oink Oink Brat $12.95
Burgers:
Fresh Angus Burger $14.95
Works Burger $15.95
Frisco Melt $14.95
Cowboy Burger $15.95
Kick Burger $15.95
Bacon Bleu Cheese Burger $15.95
Texas Mayhem Burger $16.95
Veggie Burger $14.95

BEST 19 SPORTS BARS IN AMERICA in 2014
Sun-Thu: 11am - 2pm
Fri & Sat: 11am - 2:30pm
Nearby Sports Bars in Milwaukee: