Tucanos Brazilian Grill
Tucanos Brazilian Grill is a vibrant Brazilian chain steakhouse that specializes in all-you-can-eat churrasco and specialty skewers, served in a lively and colorful space. Tucanos Brazilian Grill is one of the Three Best Rated® Steak Houses in Newport News, VA.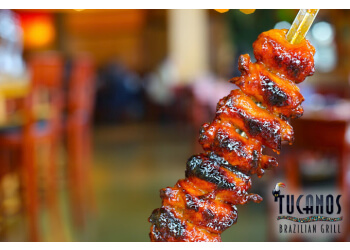 The restaurant offers a blend of Brazilian and American cuisine, creating a delicious fusion of flavors, textures, and colors. To enhance the dining experience, Tucanos Brazilian Grill also features a spacious bar area with cocktail tables and a heated outdoor patio. Tucanos Brazilian Grill also offers catering services, with a wide range of entrees and flavor-filled sides, as well as healthy salad options. Additionally, every month, the restaurant features two unique Brazilian treats that will take your taste buds on a journey to Brazil. For those on a keto diet, the restaurant also offers keto-friendly options. With its exceptional cuisine, unique dining experience, and catering facilities, Tucanos Brazilian Grill is the perfect place to satisfy your cravings and enjoy a memorable dining experience.
MENU: Alcatra

Picanha

Assado

Picalho

Fraldinha

Linguiça

Presunto

Lombo

Frutos Du Mar

Frango Picante and Com Parmesão

Shrimp

Center Cut Sirloin Wrapped in Bacon Skewer

King Crab Legs

Calamari

Medalhão

Taste of Brazil & Nachos Brasileiros
I attended a birthday party and the accommodations were great. Service was outstanding. This was my second time dining there. I give this restaurant very high recommendations for anyone.
This a place that I really enjoy coming to. The food was good, there was a nice selection of meats. The carving staff was always bringing something different and that was good as we had a large party. No one was left wanting.
The food was amazing, She Crab soup, salad bar, Sushi and meat were very tasty! Our server was very attentive too. All around good
Tucanos Children's Churrasco Starts from $9.95
Specialty Skewers Starts from $11.95
Appetizers Starts from $8.95
Beverages Starts from $5.95
Desserts Starts from $8.95
Mon-Thu: 11am - 10pm
Fri & Sat: 11am - 11pm
Sun: Closed
Nearby Steak Houses in Newport News: