Iron Gate Storage
Iron Gate Storage provides customers with clean and secure self-storage units. Iron Gate Storage is one of the Three Best Rated® Storage Units in Vancouver, WA.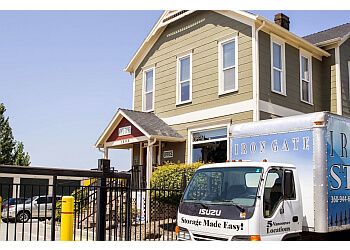 The units available at their location are drive-up units, ranging in size from 5' x 5' to 24' x 30'. Indoor and outdoor drive-up storage units are available for rent. These facilities are especially beneficial for sales agents on the road, as they provide a central location where products and important business documents can be easily accessed. Instead of using a business office for storage, consider a local business storage unit as a convenient alternative for storing non-essential documents, furniture, and computer equipment. Iron Gate Storage prioritizes the safety of its customers' belongings, as evidenced by its 24-hour video recording and on-site management staff, which conduct routine daily walkthroughs to ensure the entire property is secure.
Business

RV

Boat

Climate/Non-Climate Controlled

Boxes/Moving and Packaging Supplies

Electronic Gate Access

Alarmed Units & Indoor/Outdoor Drive Up Access
I'm writing this review for a friend that has been with Irongate Storage for some years. She has always told me how great the staff here at this location has treated her & worked with her the times she has had health issues & has fallen behind. In my opinion, that constitutes great customer service! Kudos to Brandy & Jake for their excellent management skills & going above & beyond for their tenants. Irongate Storage Rocks!
Thank You Iron Gate Storage for being so amazing in your business relationship with my niece Roberta Tyler. I helped her move into this facility some years ago. the maintenance was above standards & the staff was courteous & very helpful, which made the move in easy & trouble free. I commend Iron Gate for their willingness to provide excellent service to their customers!
Everyone is so friendly and helpful. I had a unit with them for over 2 years, during which fell on some very hard times. The staff worked with me vigorously to ensure I didn't lose the unit and all of my belongings. They are the best, if I ever need to store anything else, I'm surely coming back :)
Small: 5 x 5 - $50
5 x 10 - $70
Medium: 7.5 x 10 - $135.50
10 x 10 - $139.50
Large: 10 x 15 - 240.5010 x 20 - $275.50

Discount
50% off 1 month on select unit
Mon-Sat: 9am - 6pm
Sun: Closed
Nearby Storage Units in Vancouver: