Jasmine Thai Restaurant
Jasmine Thai Restaurant is a popular dining destination located in Tampa City that serves delicious and authentic Thai cuisine. Jasmine Thai Restaurant is one of the Three Best Rated® Thai Restaurants in Tampa, FL.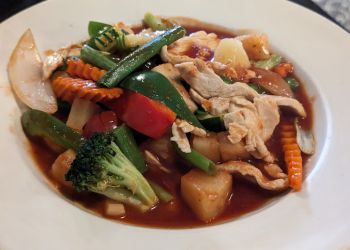 The restaurant's interior is decorated with traditional Thai elements, creating a cozy and welcoming ambiance for diners. Their menu features a wide range of Thai dishes, including classic favorites like Pad Thai and Tom Yum Soup, as well as dishes such as Larb Gai and Gang Kiew Wan. All dishes are prepared with fresh, high-quality ingredients, and the restaurant offers options for vegetarians and those with dietary restrictions. The restaurant's staff is friendly and attentive, and they provide excellent customer service. With its relaxed atmosphere and scrumptious Thai dishes, Jasmine Thai Restaurant is a must-visit for anyone looking to indulge in authentic Thai cuisine.
MENU: Pad Thai

Pad Ba Mee

Spicy Noodles

Pad See-Ew

Spicy Fried Rice

Jasmine Combination

Pineapple Fried Rice

Pineapple Curry

Tofu Pumpkin Yellow Curry

Siam Chicken

Basa Green Curry

Rice Soup

Fried Wonton & Crab Rangoon
It's a unique place. The food is fresh, delicious and ON TIME! the service is always checking on you, but giving you space to eat and enjoy the food! The food is incredible. And the price is affordable and worth it.!! They made us feel WELCOMED.
Excellent Thai food! We ordered the pad woosen, and pad see ew for our main courses alongside crab Rangoon, and papaya salad! So much flavor. Pair it with a Thai tea and call it a day!
Extremely friendly and quick service. At lunch they gave us complimentary chicken rice soup and egg rolls. Portions were large dinner sized portions. Everything was flavorful and delicious. Spiciness level was spot on for what we requested. The atmosphere was nice, and it is great for a casual date or family meal.
Appetizers Starts from $3.95
Soups Starts from $3.95
Jasmine Specialties Starts from $14.95
Entrees Starts from $14.95
Curry Starts from $15.95
Fried Rice Starts from $14.95
Noodles Starts from $14.95
Side Orders Starts from $2

Mon-Fri: 11am - 9:30pm
Sat: 11am - 10pm
Sun: 11am - 9pm
Other Thai Restaurants in Tampa: