ICT IMMEDIATE CARE, LLC.
ICT Immediate Care, LLC. ICT IMMEDIATE CARE, LLC. is one of the Three Best Rated® Urgent Care Clinics in Wichita, KS.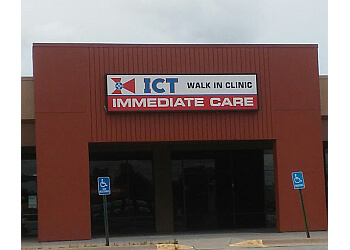 is a thriving urgent care clinic experiencing rapid growth in Wichita. Starlet K is the owner of the clinic. The clinic boasts a team of highly skilled and well-trained physicians and staff members dedicated to exceeding customer expectations when it comes to urgent care treatment. As a result, customers can trust ICT Immediate Care to provide them with the peace of mind they seek when seeking medical attention. At ICT Immediate Care, LLC., a comprehensive range of treatments is available, catering to various medical needs. Whether it's respiratory illnesses, minor injuries, acute illnesses, sore throats, or more, the expert team is fully equipped to handle various medical concerns. They offer low-cost solutions for essential imaging services such as X-rays, CT scans, and MRIs, making it easier for patients to access the diagnostic services they require. Patients can expect clear and upfront pricing details, ensuring they know the costs involved before proceeding with any medical procedures or treatments.
Scratches

Asthma

Rash

Acute Bronchitis

Cough

Animal Bites and Insect Bites

Sprains

Abscess

Sore Throat

Vomiting

Strains

Diarrhea

Scrapes

Minor Burns

Acute Illness

Dehydration

Mild Copd Exacerbation

Nausea

Cold and Flu

Ear Pain

Cuts

Pink Eye

Fever

Stings

Allergies

Urinary Tract and Skin Infections

Migraine Headaches

Cute Back & Acute Dental Pains
I would highly recommend ICT Immediate Care!!! I don't have insurance so I dread going anywhere because it feels like I have to sell my arms and legs just to afford a treatment that can help save me. That was until I did some research and found this place. Also no appointment needed. Once I arrived, I filled out a single piece of paper, answered a few questions, paid the $65 upfront and was in and out with my prescription being sent to the exact pharmacy location I requested for. And it was ready once I arrived. The website said exactly how they operate and could keep their prices so low, which is everything I needed during this time. The price for my prescription was very fair, especially without insurance! I wasn't feeling well and had a headache, so for everything to be quick and easy, it was extremely nice. The lady in the front was friendly and the doctor was informative and kind. Which made me feel comfortable. I will definitely be returning if I ever get sick again and I have already been telling my friends and family about this immediate care!
My daughter and I both have been seen here for a various reasons. Dr Kerner and staff are the most empathetic and compassionate professionals that I've encountered in such a long time. I am forever grateful for what they do for the community that simply cannot afford a $300 medical bill for some antibiotics. Would recommend x1000.
My Dr office wanted me to wait a week I have to pay out a deductible so I opted to try this. I was in and out in 15 minutes Dr was very nice explained treatment for my sinus infection. Nurse was also awesome...took complete history and vitals...overall very reasonable and I will definitely be back!!
Mon-Thu: 9am - 4pm
Fri,Sat & Sun: Closed
Nearby Urgent Care Clinics in Wichita: