Jason N. Zommick, MD, FACS - UROLOGY SPECIALISTS OF NEVADA
Jason N. Zommick, MD, FACS - UROLOGY SPECIALISTS OF NEVADA is one of the Three Best Rated® Urologists in Henderson, NV.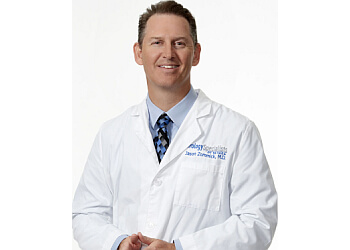 Dr. Jason N. Zommick is a board-certified Urologist recognized by the American Board of Medical Specialties and offers expertise in various aspects of general urology, with a particular focus on utilizing cutting-edge technologies for prostate health. With an impressive record of over 2,000 procedures performed, Dr. Jason N. Zommick is well-versed in the latest advancements in the field. Additionally, he has a special interest in providing minimally invasive vasectomies, offering patients a less invasive and more comfortable experience. Dr. Jason N. Zommick is dedicated to providing his patients with innovative and effective treatment options. Fluent in both English and Spanish, he ensures clear communication and understanding with a diverse range of patients. Known for his gentle and friendly approach, Dr. Jason N. Zommick has gained a reputation among his peers and patients alike. Dr. Jason N. Zommick extends his services to Las Vegas, further expanding access to his exceptional urological care in the community. He accepts new patients & telehealth appointments.
Prostate Conditions

Vasectomy

Erectile Dysfunction (ED)

Male Infertility

Low Testosterone

Premature Ejaculation

Peyronie's Disease

Urinary Tract Infection (UTI)

Male and Female Urinary Incontinence

Vaginal Prolapse & Kidney Stone
I HIGHLY recommend Dr. Zommick. I had to have kidney stone surgery for the first time and I was nervous. In the end, all went well and I am very relieved it's over. I feel I could not have had a better doctor to walk me through from start to finish. He is professional, experienced, kind and has excellent communication. He is also patient with questions which I appreciate because sometimes I feel rushed by medical professionals. It was so nice I knew exactly what was going to happen and what to expect. Thank you Dr. Z for taking great care of me!!
Dr. Zommick is very good at explaining the procedure and takes time to answer any and all your questions. I really want to say thank you to the nurse who got me an extra pillow for the procedure. Thanks again, Brad.
Dr. Jason Zommick is good great Doctor, all the office staff is good with great customer service, thanks, Doctor.
Anthem, Anthem Blue Cross Blue Shield, Blue Cross Blue Shield, CareFirst Blue Cross Blue Shield, Cigna, First Health (Coventry Health Care) & MultiPlan
Nearby Urologists in Henderson: