Visual Arts Wedding Photography, Inc.
Visual Arts Wedding Photography, Inc. Visual Arts Wedding Photography, Inc. is one of the Three Best Rated® Wedding Photographers in Cape Coral, FL.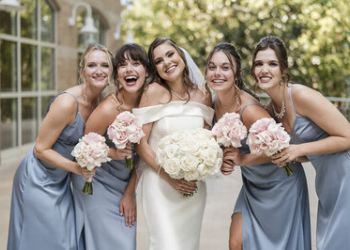 is a Florida-based photography boutique that provides stylish and contemporary wedding photography services to modern couples. They offer comprehensive coverage for every aspect of your wedding journey, including proposal, engagement, bridal shower, rehearsal dinner, and the wedding day itself, from the preparations to the sparkler send-off. The photography team behind this boutique is a husband and wife duo, Carsten and Leigh, who are based in Florida and travel for 50% of their weddings. They are two fun-loving and creative entrepreneurs passionate about their craft and living life to the fullest. With over four years of experience working together, they ensure your photography experience is enjoyable. They know when to step in and guide you into a pose and when to step back and capture natural moments. They strive to capture every aspect of your special day and aim to produce images that evoke every emotion imaginable, from laughter to tears.
Engagement

Beach Wedding

Bridal

Couples

Destination Wedding

Elopement

Events and Parties

Family and Group

Headshots and Portraits

Individual Photography

Photo Editing

Pre-Wedding Photo Shoots

Rural

Trash-The-Dress

Wedding Ceremony

Wedding Preparations & Wedding Rehearsal
My husband and I had the pleasure of working with Carsten and Leigh for our engagement shoot and wedding. From the moment we met them, it was an instant connection. It did not feel like we had random people taking our pictures, it felt like family was. Leigh was with me while I was getting ready, not only taking pictures, but also helping around anywhere she could. She made sure I was happy and content! After the wedding, so many of our guests were going on and on how much they loved Carsten and Leigh! We now have lifelong friends! I will absolutely recommend Visual Arts Wedding Photography to all of our friends and family!
Carsten and Leigh made the day perfect. They are such a fun couple and are amazing photographers. They went out of their way to make sure that our guest board was signed at the reception, definitely not something they had to do. I would definitely recommend them. The photos are absolutely perfect. Love these two!
Extremely satisfied with services from Visual Arts Wedding Photography by Carsten & Leigh they did such an amazing job at our wedding. They made it fun for us and our guest, they listened to everything we wanted and worked at our pace due to heat on wedding day we took breaks. They were every professional and captured so many beautiful moments. All the photos came out great diffidently recommend do not use anyone else!

Words can't really explain how grateful we are to have Carsten and Leigh for our wedding. They provided the utmost perfect service. They were able to capture every special moment on our wedding day. They made everything so fun and personal. The team was supportive and made everything so easy for us. Our photos turned out amazing, very satisfied customers and we plan on using them for future occasions! love these guys! - Kate & Harry
Weddings Starting at $2000
Nearby Wedding Photographers in Cape Coral: