Custom Personalized Lawn Care
Custom Personalized Lawn Care is a locally operated, family-owned lawn care and maintenance company in the Flint region. Custom Personalized Lawn Care is one of the Three Best Rated® Lawn Care Services in Flint, MI.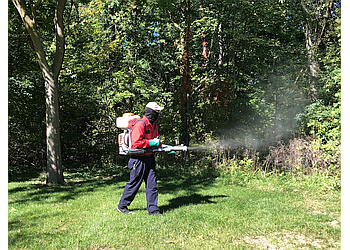 The company caters to both commercial and residential customers, and they are on the lookout for outgoing, highly motivated, and team-oriented individuals to join their team of professionals. They equip all their employees with advanced technology to ensure they can perform comfortably and deliver the results their customers expect. The company has prioritized enhancing the level of service it provides to its extensive customer base, which includes over 17,000 clients. Leveraging their years of experience and honed expertise, they have mastered the art of crafting lawns that are lush, healthy, and radiating vibrancy. These lawns become a source of joy and satisfaction for their customers, offering a delightful and refreshing space to enjoy throughout every season of the year.
Weed Control

Fertilization

Core Aeration

Grub-Control

Mosquito-Control Plus Perimeter Pest

Flea & Tick Control



Allenton

Almont

Ann Arbor

Atlas

Attica

Auburn

Avoca

Bad Axe

Bancroft

Bath

Bay City

Birch Run

Bridgeport & Surrounding Areas
For the first time in years we decided to hire a lawn service to improve our lawn. From the very first phone call they have been professional and informative . Today my tech Scott arrived for my first treatment. He was professional and friendly as he introduced himself and explained what he would be doing. He completed his service, provided a receipt and left a sign in my yard so my neighbors would know a chemical was applied to my lawn so they know to keep their dogs off it. He also notated a few suggestion that I could do to improve some areas of my lawn! Well done!
Mike Hall came out today and did a great job. He was very thorough explaining the pest spray treatment and made sure he answered all of my questions. I watched him through the window as he treated my yard, and he did a great job hitting all the problem areas. I would definitely recommend Custom Personalized Lawn Care, and I'd suggest asking for Mike!!
Custom has always done a nice job on our lawn but this year it's better! I really like the technician, Bud, who does a very thorough job. He gets all the spots that in the past I've had to come outside and ask the tech to get those spots. And the weeds in those spots would grow all over so I'm very pleased with his service. He's a super nice man, easy to talk to, friendly and like I said thorough.
50% Off for First Treatment
Discount
50% Off for 1st Weed Control & Fertilization Treatment
Mon-Fri: 8am - 6:30pm
Sat & Sun: Closed
Nearby Lawn Care Services in Flint: