Basil N' Spice Thai Cuisine
Basil N' Spice Thai Cuisine is an acclaimed Thai restaurant that boasts an inviting ambiance where you can relish delicious Thai cuisine along with cocktails. Basil N' Spice Thai Cuisine is one of the Three Best Rated® Thai Restaurants in Worcester, MA.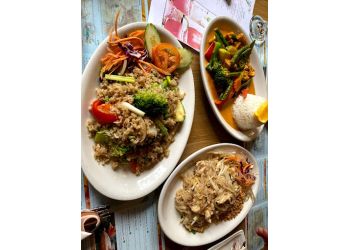 Bator Lachmann is the owner of Basil N' Spice Thai Cuisine. Their menu features expertly crafted, authentic Thai dishes, ranging from classic Pad Thai to the intriguing Wild Boar Basil. The friendly and knowledgeable staff ensures a delightful experience from the moment you step in until you depart. Basil N' Spice Thai Cuisine offers a broad selection of Thai delicacies on its diverse menu that can be enjoyed whether you choose to dine in or take out. Basil N' Spice Thai Cuisine also has a full bar service that includes specialty cocktails. Their catering services are tailored to meet your event's guest count and dietary restrictions. Their menu perfectly combines traditional Thai cuisine with other unique Thai dishes. From an office party to an at-home celebration, they can help with your next event.
MENU: Chicken Satay

Tung Tong

House Salad

Chicken Wings

Fresh Rolls

Thai Rolls

Crab Rangoon

Himalayan Edamame

Tom Yum

Tom Kha

Seafood Tom Yum & Sticky Rice with Mango
Came here for a date night. Was here on a Friday and wasn't too hard to find a table. We got the Tung Tong which were these crispy paper bags with a decent amount of filling. The dipping sauce that came along was great too. We also got the chicken dumplings that had a nice thin wrapper. Then we got the sampler which had a few of their top appetizers. For mains we tried the red curry with chicken and pad that with pork. Authentic taste and great portions. We also got a few drinks and that were nice.
Cozy interior, good food, and friendly staff. Plenty of vegetarian menu items and cocktails. Perfect for a family occasion! I wouldn't recommend the fresh rolls or dumplings as an appetizer. Penang curry came recommended by the waiter and didn't disappoint.
We loved crab ragoon so much we took it home. It was a office lunch and all were happy with food. Its a great place for a thai food. I would definitely recommend it to my friends.
Appetizers Starts from $9.95
Salads Starts from $8.95
Soups Starts from $7.95
Dessert Starts from $8.95

Lunch: Wed-Fri: 11am - 3pm
Dinner: Tue-Thu: 4:30pm - 9pm
Fri & Sat: 4:30pm - 9:30pm
Mon & Sun: Closed
Nearby Thai Restaurants in Worcester: