The Fountain Acupuncture and Herbal Medicine
The Fountain Acupuncture and Herbal Medicine is a renowned clinic in Cary. The Fountain Acupuncture and Herbal Medicine is one of the Three Best Rated® Acupuncture in Cary, NC.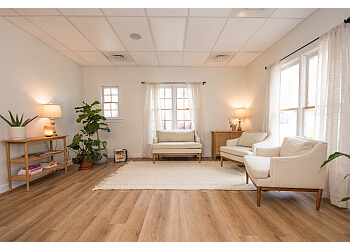 They specialize in personalized acupuncture and Chinese herbal medicine treatments to activate the body's innate healing process. Their team of experts focuses on treating various health issues, including chronic pain, vertigo, mood imbalances, anxiety, stress, depression, thyroid, and gastrointestinal disorders. They offer a range of treatments, such as acupuncture, Chinese herbal medicine, cupping, cold laser therapy, and more. Kristin ten Broeck, a licensed and NCCAOM National Board-Certified Acupuncturist and Classical Chinese herbalist, graduated with honors in Chinese medicine and research from the National University of Natural Medicine (NUNM), the oldest naturopathic university in the country. She is dedicated to improving her patient's health by focusing on acupuncture therapy.
Acid Reflux

Colitis

Irritable Bowel Syndrome (IBS)

Nausea/Vomiting and Nausea from Chemotherapy

Peptic Ulcer

Spastic Colon

Ulcers

Asthma

Bronchitis

Cold and Flu

Constipation

Crohn's Disease

Diarrhea

Food Allergies

Gastritis

Gerd

Hyperacidity

Emphysema

Sinusitis

Sore Throat

Headaches

Stress

Cervical Spondylitis & Bell's Palsy
I've been receiving acupuncture treatments from Kristin for several months now and I'm very happy with the improvements I'm seeing with my overall health. She has reduced my stress levels and alleviated my back pain allowing me to live a more active lifestyle. Kristin is knowledgeable on the topics of acupuncture and Chinese medicine and will take the time to explain the treatment process. I will continue to see Kristin and receive acupuncture as part of my wellness regimen.
Acupuncture helps me immensely, but what makes The Fountain Acupuncture earn 5 starts in my book is the personal and diverse approach Kristin ten Brock takes in making her assessment and subsequent treatment. She is highly knowledgeable in not only Chinese medicine and herbs, but holistic nutrition as well. I have been coming here for about 6 months and I feel 100% better than I did when I began. Highly recommend!
Amazing results from a true professional! In one visit the pain and weakness in my hand was completely resolved. Kristen also corrected the "golfers elbow" issues I was having and my knee continues to show improvement with reduced swelling and lessening pain. Kristen is a compassionate, intelligent and professional health care practitioner. I highly recommend her acupuncturist and herbal services!
Best Acupuncturist in the Triangle from Indy Week in 2018
Tue-Thu: 9am - 6pm
Fri: 9am - 2pm
Sat: 9am - 5pm
Mon & Sun: Closed
Nearby Acupuncture in Cary: