Wichita Comprehensive Treatment Center
Wichita Comprehensive Treatment Center offers medication-assisted providers offering Addiction treatment. Wichita Comprehensive Treatment Center is one of the Three Best Rated® Addiction Treatment Centers in Wichita, KS.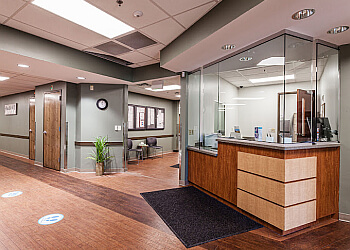 The center has treated opioid addictions in recovery programs for over 50 years, and extensive amounts of research back its safety and effectiveness. The center provides care to allow you and your loved one to end drug dependency. The center has been providing top-of-the-line care to each individual who comes for treatment. They also offer group therapy sessions led by counsellors who help patients obtain support and guidance. Suboxone is proven to aid patients in achieving the mental clarity required to progress toward lasting recovery successfully. The Treatment Center offers Same-day and 24/7 appointments, and counselling is available.
Methadone

Suboxone

Counselling

Opioid Use Disorder

Drugs and Alcohol Addiction

Depression

Gambling

Co-Occurring Disorders & Mental Health Issues
I really like my counselor, she has helped me a lot! She's not just a drug addiction counselor but a real, certified therapist. I can usually get right in & out. I've been going there for 10 years unfortunately but for the last year I haven't been using thc So my UAs are clean & I get more takehomes & everything goes much smoother. Follow the rules & everything will go fine. The doctor here is amazing -oh my gosh! He is incredibly easy to talk to and Incredibly understanding. I should've been kicked out more than once but he let me stay because he tries not to punish an addict for being an addict. You will get kicked out for violence or disrespect though. My only complaint is sometimes I have to have an observed UA and I have to wait a long time and then after I've been waiting awhile I have to pee really bad! Susan was running the place but has recently left and that makes me sad because she really cared about people and really helped me so I'm interested to see how it's going to go from now on.
Is a good clinic. All personnel is nice. Counselors are very compassionate and the Doctor is the best. They treat you like a human with respect and dignity.
Susan is incredible and she treats her patience with so much empathy and care. Her counseling sessions & groups are something I look forward to and I've learned more about myself in my two years with her than I ever had before she came.
Accept Most Major Insurance
Mon-Fri: 5am - 1pm
Sat & Sun: Closed
Other Addiction Treatment Centers in Wichita: