Make It Happen Bail Bonds
Make it Happen Bail Bonds strives to deliver a professional and personable bonding experience to individuals, regardless of their familiarity with the bail bonding process. Make It Happen Bail Bonds is one of the Three Best Rated® Bail Bonds in Jacksonville, FL.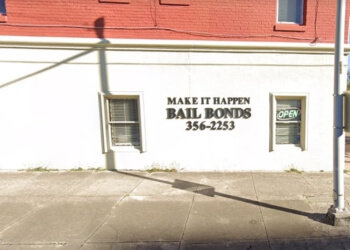 This bail bond agency was established to provide a different, more supportive approach to those facing the stress of obtaining a bail bond for their loved ones. They prioritize creating a secure and comfortable office environment staffed by licensed and trustworthy professionals, ensuring an efficient service that benefits both you and the person in need of the bail bond. Additionally, they understand the financial challenges that can arise in these situations and offer reasonable and flexible payment options to provide the necessary support. Make it Happen Bail Bonds extends their services to Duval, Clay, Nassau, St. Johns, and all other counties throughout Florida.
Appeal

Assault

Immigration

Domestic Violence

Misdemeanor

Drug Charges

Embezzlement

DUI/DWI

Forgery

Credit/Debit Card Abuse & Weapon Charges Bail Bonds
The ladies at make it happen bail bonds are absolutely amazing! They are caring and kind and REAL!! When it comes to a bondsman who cares about the safety of their bondies this is the place!! So thankful for them and what they did for me and how they treated me!!
They were very thoughtful and understanding and MOST definitelyyy kept me and my mother updated with EVERYTHING !!!! I would most definitely recommend this place
What a wonderful experience signing with Joanne. Thank you for your kindness shown and professionalism is far superior to most. God bless you
Other Bail Bonds in Jacksonville: