Fitzgerald & Associates, PC
Fitzgerald & Associates, PC is one of the leading bankruptcy law firms in Jersey City. Fitzgerald & Associates, PC is one of the Three Best Rated® Bankruptcy Lawyers in Jersey City, NJ.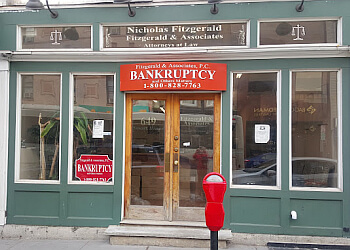 With over thirty years of experience in consumer bankruptcy counseling, F&A has provided practical, reliable, and affordable legal counsel to thousands of clients facing bankruptcy problems in New York and New Jersey. They have served more than 10,000 clients, and 100 million dollars of debt have been removed. Attorneys at Fitzgerald & Associates specialize in debt elimination and management strategies related to bankruptcy. In addition to helping clients with individual consumer debt bankruptcies, their attorneys have the legal expertise and tools to assist individuals and small businesses requiring more complex reorganization. Fitzgerald & Associates will work directly with you to determine strategies for retaining important assets, such as your home and vehicle. A free consultation is available in which they discuss various bankruptcy options. They have a branch in West Orange.
Chapter 7

11 and 13

Repossessions

Wage Garnishments

Law Suits

Debt Relief

Credit Card Debt

Medical Bills

Student Loans

Bank Levies

Mortgage Liability & Foreclosures
I am so grateful to have walked into the office of Nicholas Fitzgerald a few years ago. The advice and strategy Nicholas provided me changed my life. I was ready to give up. With the help of Sarah Crouch, a very thorough Lawyer in the lawfirm, I was able to save my house !!! I am forever grateful.
Very professional, accommodating and knowledgeable. I would say they are lawyers with the heart. They listen to what I have to say and advise accordingly. Highly recommended to anybody who needs an honest, dependable and all around good lawyers.
The team at this firm is fabulous, our case went smoothly and we were Always treated with professionalism and assured we would be ok, and we are now we can take the deep breath of relief. Great job, good people.
Mon-Fri: 9am - 5pm
Sat: 9am - 12pm
Sun: Closed
Nearby Bankruptcy Lawyers in Jersey City: