Afshin Hakim - Hakim Law Group
Afshin Hakim, a highly experienced attorney at Hakim Law Group, possesses extensive knowledge in the field. Afshin Hakim - Hakim Law Group is one of the Three Best Rated® Business Lawyers in Los Angeles, CA.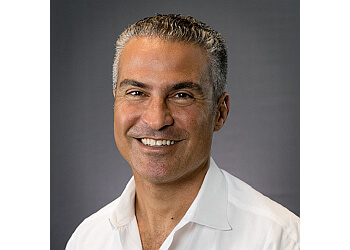 His expertise centers around mergers and acquisitions catering to emerging growth companies. Afshin Hakim diligently represents borrowers and lenders in secured deals, handling various debt-financing transactions. With a remarkable aptitude for resolving legal and business matters, Hakim provides the utmost representation. He is frequently sought after to assist private equity funds and strategic buyers in their acquisition endeavors. He offers valuable counsel to companies and entrepreneurs regarding their liquidity events. Hakim Law Group, a Los Angeles-based corporate law firm, is tailored to serve entrepreneurs across the spectrum, from start-ups to established businesses. Regarded as a top business law firm in Los Angeles, their primary goal is to streamline various aspects of your business operations. The firm boasts a team of seasoned business attorneys representing numerous small companies, operating entities, venture capital firms, and financiers. Having previously worked in renowned international law firms and serving as general counsel for prominent organizations, they bring a wealth of experience and expertise.
Early Stage Companies

Transactional

Employment and Executive Representation

Entertainment and Media Clients

Securities Offerings and Corporate Compliance

Finance and Lending

Start-Up and Contracts

Venture Capital

Real Estate

Licensing

Employment

Commercial &Technology Transactions
Afshin Hakim provided legal advice and guidance to me for the sale of the company I purchased in 2018. I found him to be experienced, responsive, knowledgable and honest. While working with Afshin, I felt as though my situation was in capable hands. His calming presence, and his polite and respectful attitude helped me to stay focused on the larger picture as he worked out the details. I would highly recommend Afshin to anyone seeking legal representation that is fair, honest, works well under pressure and will keep your best interest and needs a priority. Should the situation arise, I would not hesitate to seek representation from Afshin Hakim again.
I highly recommend Afshin Hakim. This is the second time I have hired him and I have been very happy with his legal services. He does not waste time or my money. He remains calm and professional. Afshin is very smart and fair. He is an excellent negotiator and lawyer.
The strategic advice Afshin provided our company in connection with closing a transaction and navigating through litigation issues was priceless and crucial towards our success. Afshin is the kind of lawyer every CEO would love to have.
Mon-Fri: 8:30am - 6pm
Sat & Sun: Closed
Other Business Lawyers in Los Angeles: