Brandon L. Kane - KANE LAW OFFICE
Brandon L. Brandon L. Kane - KANE LAW OFFICE is one of the Three Best Rated® Business Lawyers in Kansas City, MO.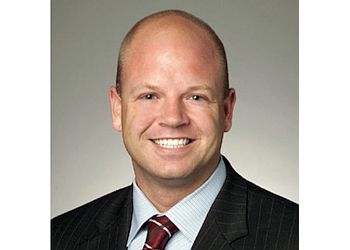 Kane is the principal lawyer and managing partner of the Kane Law Office. With nearly 18 years of legal experience, Brandon is an accomplished attorney who has garnered recognition for his criminal and corporate law expertise. He obtained his J.D. from the University of Kansas School of Law and has actively participated in numerous volunteer legal support and tax programs, earning multiple CALI awards. Brandon's practice primarily focuses on corporate law and administrative/commercial litigation. He is licensed to practice in Missouri and Kansas, allowing him to assist clients with a wide range of complex legal matters. Brandon is dedicated to providing exceptional service, personalized care, and compliance with legal requirements. At the Kane Law Office, comprehensive legal services are offered to companies at various stages of development, including entrepreneurs, sole proprietors, start-ups, and small to medium-sized businesses.
Start-Up Law

Shareholder Buy-Sell Agreements

Contracts

Commercial Litigation

Registration and Foreign Qualification

Operating and Partnership Agreements

Compliance

Corporate

Formation

Entity Selection

Transactions

Buy/Sell Agreements

Commercial Litigation & Shareholder Agreements
I cannot get over how professional, knowledgeable and accurate, detailed oriented, friendly, patient and efficient this law firm is. I couldn't have asked for a better lawyer and law firm to help me with my case and from the moment I spoke to them I knew they were it. I never felt pressured or taken advantage of by them whatsoever. They are just, they are fair, and they are great!! I give them 10 stars out 5. If you're looking for someone to legally protect you and have "your" best interest at heart, look no further! Thank You for everything you've done and continue to do to help me! You guys are UNBELIEVABLY GOOD!!!
Brandon Kane is an excellent attorney. Him and his team are very professional and take the case seriously. They are very responsive and take the time to talk to you and answer all of your questions. They explain to you step by step what is going on with your situation. He is very helpful and knowledgeable. You are in good hands with Brandon.
Very grateful for the administrators & team at the Kane Law Office. They have been very helpful during the process of getting my Traffic assistance amended. Brandon Kane has been thorough and responsive via email during this time, and I couldn't be any more thankful!
Hourly rates $200 - $300 per hour
Contingency 33%-45%
Mon-Fri: 8:30am - 5:30pm
Sat & Sun: Closed
Other Business Lawyers in Kansas City: