Tre Lovell - The Lovell Firm
Tre Lovell, an esteemed business lawyer based in Los Angeles, is renowned for his exceptional legal prowess. Tre Lovell - The Lovell Firm is one of the Three Best Rated® Business Lawyers in Los Angeles, CA.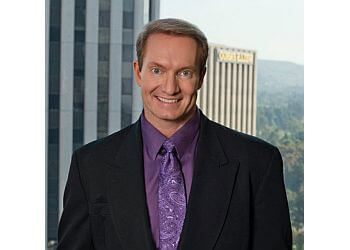 With over 20 years of experience in business litigation, Tre Lovell has established himself as a prominent figure in the field. In 1992, he obtained his J.D. from the prestigious McGeorge School of Law. As the lead attorney of The Lovell Firm, Tre Lovell brings his extensive expertise to the table. His specialization lies in litigating entertainment law disputes, particularly against the nation's largest media and entertainment companies. The Lovell Firm takes great pride in providing honest and practical legal guidance whenever needed. They cater to businesses in Los Angeles and across the state, primarily focusing on addressing immediate concerns. Furthermore, their lawyers have been selected as the exclusive litigation representative of Global Law Experts from California. The firm has also been honored with additional accolades from corporate LiveWire, Acquisition International, and Acquisition Finance Magazine for their outstanding corporate and entertainment law work. Clients of The Lovell Firm can benefit from a complimentary consultation, allowing them to explore their legal options without any financial commitment.
Financing

Licensing

Shareholder

Merchandising Contracts

Employment and Confidentiality Agreements

Vendor and Supplier Agreements

Distribution and Sales Agreements

Lease

Corporate Law

Entertainment

Intellectual Property & Civil Litigation
Hands down the best attorney I have ever come in contact with. Tre Lovell is smart, personable, and so knowledgeable about what he does. I was lucky enough to be able to speak directly to him, he answered all my questions and was very helpful throughout the legal process. He really listens to you and has your best interest. If you ever need an attorney, do not hesitate to contact Tre!
I am so happy that I decided to choose Tre Lovell to be my attorney and it was a great experience working with him. He helped me settle my case with an outstanding result. He is relentless, knowledgable and professional at his work, at the same time, he is very caring and personable. There is a reason why he is top 1% of the most recognized and accomplished attorneys in America. I highly recommend him to anyone who needs legal support.
My husband and I have been involved in a class action law suit for years. We wasted a lot of years on the first attorney who did nothing but take our money. It's a complicated case and Tre has worked relentlessly to get justice for all the investors. It is obvious he is highly intelligent and skilled. He is also a personable man and cares about his clients. I have nothing but praise for Tre Lovell!
Litigator Award For Extraordinary Litigation Achievement by Trial Lawyers Board of Regents in 2015 - Top 1% of the Most Recognized and Accomplished Attorneys in America by Distinguished Justice Advocates in 2015 - The National Trial Lawyers Top 100
Mon-Fri: 9am - 5pm
Sat & Sun: Closed
Other Business Lawyers in Los Angeles: