Troppito Miller Griffin, LLC
Troppito Miller Griffin, LLC is a prestigious law firm in Kansas City widely recognized for its extensive expertise and exceptional legal services. Troppito Miller Griffin, LLC is one of the Three Best Rated® Business Lawyers in Kansas City, MO.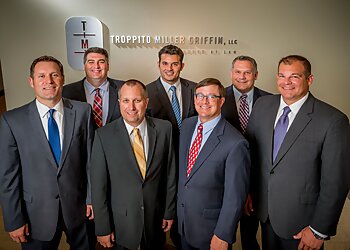 Since its establishment in 1940, the firm has consistently achieved outstanding results and has been a trusted partner for clients for over 80 years. With a team of highly skilled attorneys, Troppito Miller Griffin, LLC specializes in a diverse range of legal practice areas. Their Kansas City attorneys boast decades of combined experience, guaranteeing top-tier representation. Whether you require assistance with consumer or business debt, criminal charges, business disputes, workers' compensation claims, personal injury cases, estate planning, or the legal aspects of forming and governing a business, their knowledgeable team is well-equipped to provide comprehensive assistance. Their business lawyers in Kansas City cater to the needs of both start-up enterprises and established companies, offering guidance in all aspects of formation and governance to ensure a strong foundation for success. Troppito Miller Griffin is committed to providing exceptional client service and offers free consultations to individuals seeking legal advice and guidance.
Business Formation and Transactions

Business Litigation and Dispute Resolution

Commercial Litigation

Drafting and Reviewing Contracts & Mergers and Acquisitions
I happened to call today due to a mishap at the DMV over an old charge and licensing, I was not expecting to get a person on the phone. Tony Miller was so kind and thorough. He also was ready with a referral for my specific situation if it wasn't able to resolve it. It put me at ease to speak to someone knowledgeable. I very much appreciated this and would highly recommend getting in touch for any services needed.
Ryan was very helpful and professional throughout my bankruptcy process. Angela, who is Ryan's legal assistant, was very helpful. Even tho I was nervous throughout this process, I knew I was in good hands. Thank you for answering all my questions and making me feel comfortable.
Ryan has been such a great help to me and my family. Not only did he help save our home, but was very sincere in understanding my financial challenges throughout the course of my bankruptcy and was always ready to help. Thankfully we completed our term and doing so much better financially. Thank you for all you do Ryan!
Mon-Fri: 8:30am - 5pm
Sat & Sun: Closed
Other Business Lawyers in Kansas City: