Asurion Tech Repair & Solutions - Fullerton
Asurion Tech Repair & Solutions-Fullerton is a customer-focused cell phone repair company dedicated to providing excellent service in Fullerton, CA, US. Asurion Tech Repair & Solutions - Fullerton is one of the Three Best Rated® Cell Phone Repair in Fullerton, CA.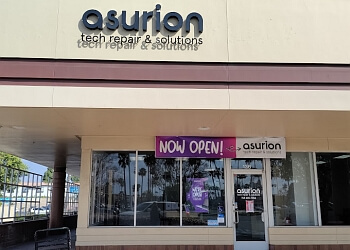 With a commitment to high-quality repairs and fast turnaround times, they ensure customer satisfaction. The business caters to all major brands, including Apple and Samsung, as well as various tablet brands. Their skilled technicians are proficient in repairing iPods, iPads, iPhones, tablets, and game consoles. Utilizing only quality parts, they prioritize delivering reliable repair services. Asurion Tech Repair & Solutions stands out for their exceptional and cost-effective services. Additionally, they offer a 90-day hassle-free warranty on all repairs, providing customers with peace of mind. The store also stocks a wide range of brand-new accessories to enhance your devices. With their efficient repair process, most phone problems can be fixed within a day, ensuring a quick turnaround time for their customers.
Mobile Unlocking

Virus Removal

Data Recovery

Speaker

HTC

iPhone

Camera

LG

Game Console

Glass

and LCD Replacement

Smartphone

Samsung

Tablet

iPad

Charge Port

Motorola

Blackberry

Google & Power Button Repairs
I had a good experience with this place than the other Asurion places. Last time I brought my samsung flip 4 into the other Asurion shop but they could not fix it. However this shop was able to fix it. The issue with my samsung flip 4 was the hinge, I could not open the phone more than 90 degrees.
Cherry did such an amazing job and was really quick to fix my Pixel 5a5g honestly if you have any phone repair needs please I highly suggest coming here for them! They are nice,fast and friendly!!!!!! Thank you again!!!!!!
Staff here was friendly and service was excellent. I made an appointment with Samsung to get my broken screen replaced. Dropped it off and a couple hours later it was done. Looks brand new, very happy with everything
Mon-Sat: 10am - 7pm
Sun: 12pm - 5pm

Nearby Cell Phone Repair in Fullerton: