Lectro Tronic Cellular Repair
Lectro Tronic Cellular Repair is a reputable and efficient provider of cell phone repair services, ensuring professional and prompt solutions. Lectro Tronic Cellular Repair is one of the Three Best Rated® Cell Phone Repair in Fort Worth, TX.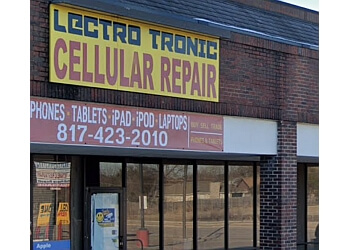 Their team consists of highly qualified and experienced professionals who are dedicated to delivering innovative and customer-centric repair services for cell phones and electronic devices. Customer satisfaction is their top priority, and they strive to provide services that meet the highest standards. Lectro Tronic Cellular Repair is committed to delivering repairs of exceptional quality with convenience in mind. From the initial consultation to the completion of the repair services, their skilled team manages the entire process efficiently. With their expertise, they ensure that the job is done correctly the first time, resulting in reliable and long-lasting repairs. To further assure customer satisfaction, they offer a 60-day warranty on all repair services, excluding liquid damage. Many repairs can be completed within a short timeframe of 30 to 45 minutes while you wait. As part of their commitment to excellent customer service, they provide a free diagnosis and estimate, with the diagnostic process typically taking about 15 minutes. When you choose Lectro Tronic Cellular Repair, you can expect professional service, quick turnaround times, and transparent pricing.
Battery Replacement

Digitizer Repair

Glass Screen

LCD

Headphone Jack

Charging Port

Button & Switch Repair
Very fairly priced, super friendly, got my devices fixed in a timely manner. They usually give you a quote over the phone depending what it is. Most importantly they won't try to rip you off! I will always come here for my future device issues.
First and foremost....I already had 2 quotes WAY MORE $$$. They were cheaper. The work was excellent. He had to order the lense replacement....but I left my Iphone. I went back a week later. Camera lense and my screen both repaired. Happy customer.
The customer service at this location is great! There is a very pleasant atmosphere as well as their offering prompt responses to one's individualized situation. I would definitely recommend their services.
Mon-Fri: 10am - 7pm
Sat: 10am - 6pm
Sun: Closed
Other Cell Phone Repair in Fort Worth: