Dr. Molly Kallenbach, DC - Thrive Health Systems
Dr. Molly Kallenbach, DC - Thrive Health Systems is one of the Three Best Rated® Chiropractors in Colorado Springs, CO.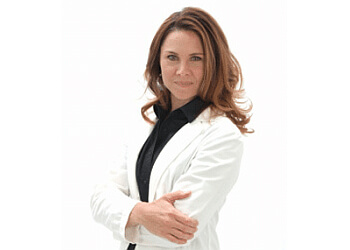 Dr. Molly Kallenbach, a highly acclaimed chiropractor based in Colorado Springs, has established herself as a prominent figure in the field. She earned her Doctorate of Chiropractic from Life Chiropractic College West Campus, showcasing her dedication to advancing her knowledge and skills. Dr. Molly and her expert team are committed to helping patients address their health challenges using natural approaches. They prioritize a holistic approach to wellness, integrating various techniques and therapies to provide comprehensive care. These include functional medicine, spinal decompression, functional movement training, class IV laser therapy, ultrasound therapy, and massage therapy. By combining these modalities, Dr. Molly aims to address the root causes of health issues and promote optimal well-being. While chiropractic care is at the core of her practice, Dr. Molly's passion extends beyond traditional chiropractic methods. She has explored additional tools and techniques that allow her to serve her patients better. This dedication led to the establishment of Thrive Health Systems, a multi-disciplinary healthcare clinic offering natural, doctor-directed healthcare solutions. With branches in Denver and Atlanta, Thrive Health Systems provides a wide range of services, including chiropractic care, functional medicine, regenerative medicine, physical therapy, and more.
Mid-Back

Leg

Arm

Wrist

Shoulder

Low Back and Neck Pain

Digestive Disorders

Sciatica

Knee

Sleep Problems

Slipped Disc

Tension Headaches

Upper Crossed Syndrome

Migraine

TMJ & Herniated Disc
My husband and I had a great experience here. Dr. Molly was wonderful and kind. We utilized a service package from Groupon that included a spinal exam, set of x-ray scans, adjustment, and 60-minute massage. The value delivered far exceeded our expectations and costs. We were treated with great care and highly recommend anyone to inquire about their multitude of services and treatments.
I've been going here for several weeks and I am more mobile and with less pain than I have been in years. The combination of the adjustments from Dr. Molly and the motion therapy from Oscar is really amazing.
Thrive offers great care! Chiropractic care is extremely important! Maintenance of your body is extremely important. Just because you feel fine today, doesn't mean you will in the morning. Get regular check-ups!
Accepts major health insurances
Mon-Fri: 9am - 6pm
Sat: 2pm
Sun: Closed
Nearby Chiropractors in Colorado Springs: