Dr. Terry Akers, DC - AKERS CHIROPRACTIC
Dr. Terry Akers, DC - AKERS CHIROPRACTIC is one of the Three Best Rated® Chiropractors in Las Vegas, NV.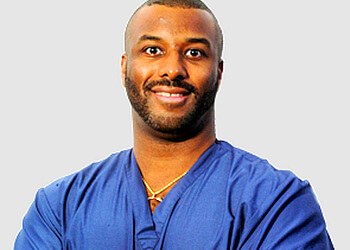 Dr. Terry Akers is a highly reputable chiropractor in Las Vegas, known for his commitment to prioritizing the individual needs of his patients. His personalized approach involves creating customized care programs tailored to your specific age, condition, and lifestyle. Dr. Terry Akers practices at Akers Chiropractic. At Akers Chiropractic, Dr. Terry and his team offer a range of gentle and conservative treatments to address your chiropractic needs. These include chiropractic care, physical therapy, massage therapy, nutritional guidance, and exercise counseling. By combining these different modalities, they aim to provide comprehensive and holistic care to promote your overall well-being. One of the notable aspects of Akers Chiropractic is its friendly and helpful staff, who are always ready to assist you and answer any questions you may have. They understand the importance of providing a supportive and welcoming environment for patients to feel comfortable and cared for throughout their treatment journey. To ensure patients receive the most comprehensive care possible, Akers Chiropractic has developed a vast network of healthcare professionals, including dentists, orthopedists, neurologists, internists, podiatrists, and physical therapists. This network allows for seamless collaboration and referrals, ensuring that all aspects of your condition are addressed with the appropriate expertise.
Neck

Shoulder

Knee

Ankle and Back Pain

Work and Sports Injuries

Auto Accidents

Personal Health

Carpal Tunnel Treatment

Headache

Migraines

Fibromyalgia

Sciatica

Arthritis

Bursitis & Numbness/Tingling
I would absolutely recommend Dr. Akers to my friends and family. His staff is very friendly. Dr. Akers explained everything in a way that a layperson can understand. After only three visits I feel much better. This was my first time seeing a chiropractor and I am very pleased. If you are having any neck/back pain give Dr. Akers a try!!!
Professional & Friendly office assistants make it easy to set & attend appointments! The office location & size are very accommodating! Dr. Akers is friendly & straightforward!! He's knows just how to help me get some relief with all the aliment I have! I am thankful to have found such great medical care! Keep up the good work!
Dr. Akers is a very adequate & thorough doctor with his manual adjustments, and he detailedly went over my past MRI report to conclude accurate evaluations regarding my vertebrae; I highly recommend him.
Attorney Liens (Car Accidents), ACN Group of California, Aetna (HMO, PPO, POS), Beach Street, Blue Cross Blue Shield (HMO, PPO, PPS), Caremore, Cigna, Clark County Self-Funded, Clark County Fire Fighters Corvel (Workers Compensation), Coventry (HMP, PPO), Culinary, Employers Insurance (EICON)(Workers Compensation), Electrical Workers, Encompass, First Health, GEHA, Great West, Healthscope, Humana, Horizon, Loomis, Mail Handlers, Pacific Care, Palms, PEBP & more
Mon,Wed & Fri: 9am - 7pm
Tue & Thu: 1pm - 6pm
Sat & Sun: Closed
Nearby Chiropractors in Las Vegas: