Margareth Pierre-Louis, MD, MBA, FAAD - Twin Cities Dermatology Center
Margareth Pierre-Louis, MD, MBA, FAAD - Twin Cities Dermatology Center is one of the Three Best Rated® Dermatologists in Minneapolis, MN.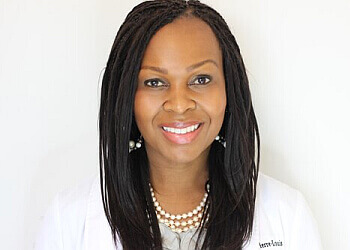 Dr. Margareth Pierre-Louis, a board-certified dermatologist and dermatopathologist, has an extensive practice where she treats numerous patients in both academic and private settings. Her primary goal is to achieve complete clearance of diseases. In recognition of her innovative contributions to improving care delivery triage in dermatology, Dr. Pierre-Louis was appointed as the Miiskin USA Business and Medical Advisor in 2021. She is the founder of Twin Cities Dermatology Center and Equation Medical Spa & Skin Care. With her expertise encompassing clinical dermatology, teledermatology, dermatopathology, and aesthetics, she offers comprehensive services. Twin Cities Dermatology Center, dedicated to providing compassionate, innovative, and evidence-based care, serves the local communities of Minnesota.
Acne

Actinic Keratosis

Anti-Aging

Dermatologic Surgery

Fungal Infection

Hair Loss (Alopecia)

Hidradenitis Suppurativa

Laser Surgery

Eczema and Contact Dermatitis

Basal and Squamous Cell Carcinoma

Ethnic Skin Care/Skin of Color Disorders

Lupus and Connective Tissue

Melanoma

Pigmentation Disorders

Psoriasis

Rosacea

Warts & Vitiligo
I took my 12-year-old daughter to visit Dr. Margareth Pierre-Louis for acne treatment recently. When we arrived to her office, I noticed how clean and nice the office looked. We were immediately acknowledged and greeted with a friendly smile by the receptionist and Dr. Pierre-Louis. The check in process was quick and easy as I completed the paperwork online which made the total wait time about five minutes. The doctor didn't keep us waiting long when we actually got to the room. She was very friendly and had a pleasant manner. She took the proper time to see my daughter, recommend and explain a treatment plan and gave us the opportunity to ask questions. I really appreciate her approach and would highly recommend.
From start to finish I was impressed! The office staff was so welcoming, thanked me for coming in! The dr's nurse was great and welcoming as well. Then Dr. Pierre-Louis herself, WOW! Her energy, down to business attitude and prompt action on helping find me a solution! And she thanked me as well for coming in!! Very, very good experience, hopeful for once.
Dr. Pierre-Louis is so kind, thoughtful, and attentive. One of the best doctor's visits I have ever had. Highly recommend.
Aetna, Anthem, Blue Cross Blue Shield, Blue Cross Blue Shield of Illinois, Blue Cross Blue Shield of Minnesota, CareFirst Blue Cross Blue Shield, Cigna, First Health (Coventry Health Care), Government Employees Health Association (GEHA), Health Net, Humana, MultiPlan, Tricare & UnitedHealthCare
Mon,Wed,Thu & Fri: 8am - 4:30pm
Tue,Sun & Sat: closed
Nearby Dermatologists in Minneapolis: