Bailey & Galyen Attorneys at Law
Bailey & Galyen Attorneys at Law, situated in Carrollton, Texas, is a highly regarded legal firm with several decades of experience. Bailey & Galyen Attorneys at Law is one of the Three Best Rated® Divorce Lawyers in Carrollton, TX.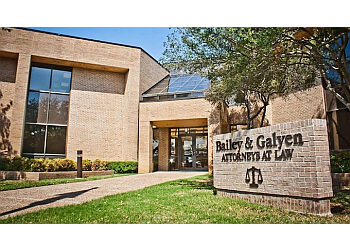 They offer invaluable expertise to individuals seeking assistance in navigating a wide range of legal challenges. With their wealth of knowledge, skills, experience, and resources, they are dedicated to helping you achieve the desired outcomes. Bailey & Galyen is a comprehensive law firm prepared to address various legal matters, including Personal Injury Law, Family Law & Divorce, Employment & Labor Law, Criminal Defense, Bankruptcy, Social Security Disability, and more. Recognizing that the end of a marriage can be challenging, they provide empathetic yet assertive guidance in all aspects related to the dissolution of a marriage. Understanding the uniqueness of each case and the specific needs of their clients, they actively listen to grasp the intricacies of your situation and determine the best path forward. To ensure they meet your requirements, they offer a free initial consultation to all prospective clients seeking assistance with divorce and family law matters.
Divorce

Marriage Annulment

Separation

Child Custody

Child Support and Visitation Rights & Prenuptial Agreements
I was trying to get ahold of a different office and ended up connecting with the Carrollton office. The lady that answered the phone named Sheryl helped me get connected to the correct office and gave me their direct number she went above and beyond to make sure I was connected to the right location and department.
Very professional, very responsive, I recommend everyone to this Law Firm & if you're in the DFW area I would recommend to ask for Mrs Scherf she was very responsive, great at her job & got my case done as quickly as we could.
Very good service, they recommended this law office to us and they are very professional, Mr. Villa helped us step by step.
Nearby Divorce Lawyers in Carrollton: