Brian Putnam - Putnam Law Office
Brian Putnam is a highly respected attorney practicing in Oklahoma City and the surrounding areas, offering a wide range of legal services. Brian Putnam - Putnam Law Office is one of the Three Best Rated® Divorce Lawyers in Oklahoma City, OK.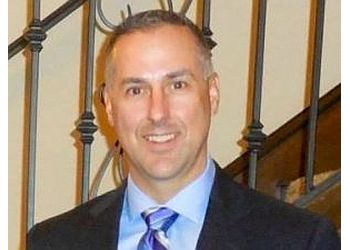 With a primary focus on family law matters such as divorce, custody, and visitation, as well as personal injury law and Protective Orders, Mr. Putnam is dedicated to assisting individuals facing challenging legal situations. With his extensive knowledge and expertise, he strives to provide practical guidance, making the often overwhelming journey through the legal system a more manageable experience. Mr. Putnam values building lasting relationships based on trust and reliability and understanding the importance of long-standing friendships that can span generations. After serving in the Air Force, Mr. Putnam transitioned into the legal field and established his practice. He is committed to tirelessly advocating for his clients and safeguarding their rights throughout the legal process. If you need a trustworthy attorney to go above and beyond for your case, do not hesitate to contact Oklahoma City's Putnam Law Office. Schedule a consultation today and benefit from the expertise of an experienced personal lawyer who will guide you through your legal matters.
Spousal Maintenance/Alimony

Relocation and Move-Aways

Grandparents' Rights

Interstate Child Custody and Support

Domestic Violence

Protective Orders

Concomitant Issues

Premarital and Other Agreements

Legal Separation and Annulments

Paternity & Personal Injury
I've had several attorneys over the years and Brian is, by far, the most compassionate, attentive, and capable attorney you could ask for. Court is stressful, custody battles like mine are horrible. He was there through it all. He listened intently and actively cared about what we were facing. He will do everything he can do to help you. I highly recommend him. He is truly on your side.
Very satisfied and thankful to Brian Putnam and his lawfirm, i highly recommend! He knows family law and will represent you well in the court room!, Also the paralegals and other lawyers he works with a special thanks, i appreciate the Putnam law firm for all the work, precision, and research they did on my custody case !
Great Office, they helped me throughout so much of my case, including helping me understand what everything meant, advice on what to do and how to go about things, and working with me on my payments and setting up a payment plan so that I could continue and finish. Would recommend fully then to anyone.
One time $100 fee applies for all consultations
Mon-Thu: 8am - 5pm
Fri: 8am - 12pm
Sat & Sun: Closed
Other Divorce Lawyers in Oklahoma City: