Bryan Stratton - STRATTON FAMILY LAW
Bryan Stratton is an experienced attorney with a diverse range of legal expertise. Bryan Stratton - STRATTON FAMILY LAW is one of the Three Best Rated® Divorce Lawyers in Oklahoma City, OK.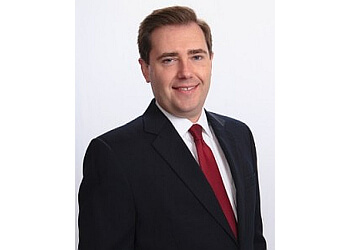 Specializing in family law, he handles various aspects of family law litigation, providing representation both in and out of court during divorce proceedings. With a focus on achieving equitable resolutions, Bryan is dedicated to assisting clients from diverse backgrounds with their legal needs, particularly in the realm of family law in Oklahoma City. Specifically, Bryan's expertise lies in divorce, child custody disputes, alimony orders, and adoptions. Throughout the divorce process, he diligently advocates for his client's interests, ensuring a fair settlement. Bryan approaches every aspect of the proceedings carefully and competently, ensuring that all necessary filings and procedures are conducted expertly and thoughtfully. In addition to family law, Bryan Stratton, Attorney at Law offers legal guidance in criminal law and immigration law within the United States. Clients can book a free, no-obligation initial consultation with Bryan to discuss their legal concerns and explore potential solutions.
Divorce Representation

Family Law

Child Custody and Support

Asset and Division of Property

Alimony & Spousal Support
Phenomenal experience with Stratton Family Law; I was treated properly and the attorney assigned to my case, Shelby, really did care about my situation. I'd recommend their services to anyone in need. Great people with great results, thank you for your services!
I would like to state that Stratton Law firm receives five stars. Their service was amazing. I would like to thank Hannah personally. She was very great at getting my daughter returned home. Thank you so much.
They are very helpful and knowledgeable here and very efficient. I had very little wait time and they had my divorce finalized in no time.
Mon-Fri: 8am - 5pm
Sat & Sun: Closed
Other Divorce Lawyers in Oklahoma City: