Kristina L. Retzlaff - FLOODMAN FAMILY LAW
Kristina L. Kristina L. Retzlaff - FLOODMAN FAMILY LAW is one of the Three Best Rated® Divorce Lawyers in Wichita, KS.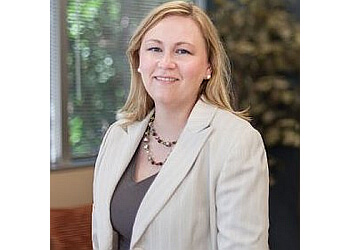 Retzlaff obtained her law degree from the University of Kansas School of Law in 2004. Her primary focus lies in helping individuals navigate the legal system during challenging periods in their personal lives. Serving as co-chair of the Family Law Committee at the Wichita Bar Association, Kristina is dedicated to supporting her clients during difficult times, aided by her exceptional and experienced staff. As a member of the Floodman Family Law, she is devoted exclusively to resolving family law disputes and is committed to passionately representing her clients' interests. In her role as one of the lead lawyers at Floodman Family Law firm, Kristina takes great pride in their sole dedication to settling family law disputes. The firm is fully committed to providing prompt and thorough responses to clients' questions and concerns, ensuring they receive the support they need during this challenging time.
Spousal Maintenance

Separation

Child Custody

Child Support

Protection from Abuse

Family Law Related Matters

Property Division

Mediation

Paternity

Alimony & Social Security
Kristina was phenomenal to work with. My situation was emotional and stressful. I started my process with a different lawyer who didn't listen to me and made my situation worse. I found Kristina and she literally saved the day. She was available for phone calls at the drop of a hat and completely supported me. She listened to my whole story, answered all my questions, and addressed all of my concerns. I had complete confidence in her. If Kristina wasn't available, Kelly would contact me in her absence. I was never left wondering what was going on or what to do next. Kristina gave me comfort when I needed it most and my only regret is that I didn't find her sooner.
I recently hired Kristina with Floodman Family Law to assist with some child support modification issues. I found Kristina and her support staff to be very professional and easy to work with. She was responsive and approachable. She resolved my legal concerns while also being mindful of my budget and handled interactions with my ex-husband in a professional manner. It takes a lot of skills, talent, and knowledge to do all of these things successfully and I am pleased that I chose Kristina to handle our legal needs.
I want to thank you for your highly professional, patient and effective representation. If I can ever return the favor in the NYC tri-state area, please do not hesitate to call on me. It would be my pleasure to assist.
Hourly rates $175 - $250 per hour
Mon-Thu: 8am - 5pm
Fri: 8am - 2pm
Sat & Sun: Closed
Nearby Divorce Lawyers in Wichita: