Lawrence Goodwin - THE LAW OFFICES OF LAWRENCE GOODWIN
Lawrence Goodwin possesses extensive knowledge and expertise in family and criminal law, enabling him to provide valuable assistance in any specific situation you may be facing. Lawrence Goodwin - THE LAW OFFICES OF LAWRENCE GOODWIN is one of the Three Best Rated® Divorce Lawyers in Oklahoma City, OK.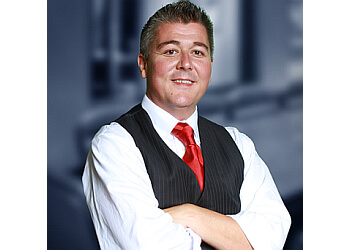 When confronted with family and court-related issues, Lawrence offers valuable advice to help you navigate these challenges. As an experienced trial lawyer, Lawrence is dedicated to upholding your rights and ensuring you receive the justice you deserve. His unwavering determination to fight for your rights is evident in his impressive track record of successful cases, showcasing his passion for the legal profession. Lawrence has been a staunch defender and advocate for parents for years, consistently protecting their interests. At the Law Offices of Lawrence Goodwin, you will find a team of experienced and dedicated family law attorneys who can offer invaluable guidance during complex family and court matters. Their primary goal is to ensure that you fully comprehend your rights and legal standing. In divorce cases, their expertise encompasses various aspects such as property division, child support, alimony, and child custody. With their wealth of experience handling similar situations, their lawyers possess the necessary skills to aggressively defend your rights during trial. The Law Offices of Lawrence Goodwin is committed to providing you access to competent family law counsel. They offer free consultations to their clients, ensuring that you can seek guidance without any financial burden.
Child Custody Issues

Paternity and DHS Cases

Visitation

Cases with the Department of Human Services

Child Support

Guardianship

Joint Custody

Custody Agreement

Father Rights & Criminal Law
Lawrence did an excellent job listening to what I needed and explaining what was realistic and what wasn't throughout the entire process. I needed someone who wouldn't let my emotions cloud my decisions during an extremely emotional process and he did just that. His entire team made sure I was up to date on everything and I never had to reach out for information. He respected not only my wishes but he was considerate of my time and money.
I am so glad I decided to call Lawrence Goodwin for my legal custody needs. I have worked with other law firms, and Mr. Goodwin is in a league of his own. He and his staff are professional and knowledgeable. They responded promptly to my correspondence and helped me learn to navigate a very personal, stressful experience with professionalism and grace. I am extremely satisfied with the outcome. I highly recommend Mr. Goodwin and his team.
Mr. Goodwin took time out of his busy schedule to call me and talk to me for 30mins without a question. Very knowledgeable and very professional with straight forward answers and no BS
Hourly rate starts from $250 / per hour
Mon-Fri: 8:30am - 5pm
Sat & Sun: Closed
Other Divorce Lawyers in Oklahoma City: