DJ DAS Entertainment
DJ DAS Entertainment is a reliable and supportive DJ service company based in Des Moines. DJ DAS Entertainment is one of the Three Best Rated® DJs in Des Moines, IA.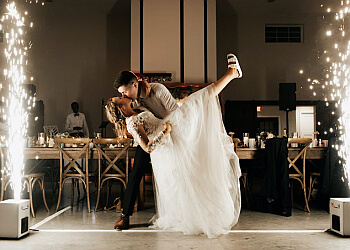 It is owned and operated by a father-son team with over 20 years of experience in the entertainment industry. Their primary objective is to ensure a seamless reception flow, keep guests informed of the event proceedings, and become an integrated ceremony and reception wedding specialist. Denis, the company's owner, is responsible for telling the couple's story, connecting guests to the couple, and personalizing the wedding celebration to the couple's liking. In addition to weddings, DJ DAS Entertainment provides premium entertainment services for corporate, school, and private events. They pride themselves on creating an exceptional party on the dance floor for guests of all ages, making the event memorable for everyone. They offer free quotes to help clients plan their events within their budgets.
Dj

Mc

Ceremony

Wedding

Reception

Dance

Corporate

School Dances

Fundraisers

Charity

Private Events

Top 40

Hip-Hop

R&b

Soul

Disco

Country

Rock

Jazz

Live Mixing

Lighting

Enhancements & Photo Booth
Denis was the perfect DJ for our wedding and reception, we were impressed with him throughout the entire process! Denis was communicative throughout the process and helped us create our reception timeline when we didn't know where to start. We felt like Denis really cared about us and our special day and his efforts reflected that care. He was professional, fun, and easy to work with throughout the entire process and carried out our personality as a couple throughout the reception. We had many rave reviews from our guests about Denis including couples' trivia, song transitions, and mixes played throughout the night. Denis is the best, with him you can go into wedding day with little stress knowing he will help put on a great party and have all under control!
One very important job of being a Wedding Planner is having a strong team to execute the perfect day for our clients. I found a great team member when I had the opportunity to work with DJ DAS Entertainment. Our clients, their friends & family were on the dance party all night long! They even executed the ending to the night exactly how our clients visioned their night ending. It was a great experience working with DAS Entertainment & excited to work again with them! Lisa Cherish the Day.
Denis was incredibly helpful throughout the whole process. He gave us suggestions while we were clueless and offered his opinion when we weren't sure which route to go. Amazing personality, and professionalism. Best DJ we've ever experienced.