Roberto Seda - Seda Law Firm PLLC
Roberto Seda, as the managing partner of Seda Law Firm PLLC, completed his JD at the University of Oklahoma College of Law. Roberto Seda - Seda Law Firm PLLC is one of the Three Best Rated® Estate Planning Lawyers in Oklahoma City, OK.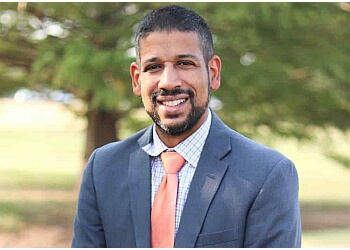 He is an experienced lawyer specializing in oil and gas, probates, and curative transactional matters. Roberto is a member of the Estate Planning, Probate, and Trust Section of the Oklahoma Bar Association. Seda Law Firm PLLC, a reputable law firm in Oklahoma City, provides efficient assistance with probate and ensures smooth estate administration. Their dedicated estate planning lawyer helps clients plan for the future and address their family's specific needs. They offer guidance on executing wills, establishing trusts, and determining the necessity of durable power of attorney and healthcare directives. Whether you require the expertise of a probate or estate planning lawyer, the firm is prepared to assist you with your legal matter.
Durable Power of Attorney

Probate

Wills

Living Wills

Health Care Power of Attorney

Advanced Directive

HIPAA Authorization

Pour-over Will

Revocable Living Trust & Trust Administration
My wife and I just utilized Roberto Seda and his team to put a trust together for us. What we received was a comprehensive estate plan portfolio. The quality, service, attention to detail, timeliness and value far exceeded our expectations. We will definitely be using the Roberto Seda law firm again. Great people!
Roberto is a professional attorney that helped my family in putting together a will and specialized trust. He was knowledgeable and helpful in all aspects of helping my parents understand the language and effects of how the assets would be distributed among the beneficiaries. He has shown an immense ability in negotiating and determining oil and gas contracts that were brought to him for clarification purposes. He is the attorney your family wants because he is fair and trustworthy. He will guide your families assets beyond probate and help mitigate the extra burden of over taxation in the event of a lossed loved one. He generally cares for all his clients and that is above and beyond the duties of his calling in his legal profession.
I hired Seda and his law firm to help me with some documents pertaining to the deed of my house. He was very affordable, professional, respectful, very knowledgeable about the law and things I can do to avoid complications with my documents long term. He was very quick to respond and handled the issue in a very timely manner. I had to go to his office for the documents and he came out of his office to the conference room to introduce himself. His assistant was great as well. He is very friendly and cares about his clients. I would highly recommend using his law firm for any legal issues. I was very satisfied with the service he provided and would use him again if I ever need to.
Other Estate Planning Lawyers in Oklahoma City: