Angelica F Prescod - Edward Jones
Angelica F Prescod is a highly professional and knowledgeable financial advisor at Edward Jones. Angelica F Prescod - Edward Jones is one of the Three Best Rated® Financial Services in Scottsdale, AZ.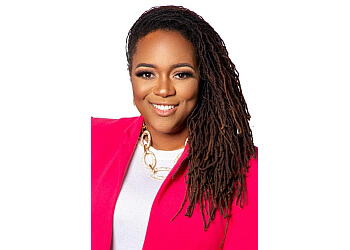 With a Bachelor of Science degree from East Carolina University, she has helped numerous clients plan and achieve their personal financial goals. Edward Jones is an investment firm that values the importance of face-to-face conversations with clients to provide personalized financial solutions. Angelica and her team work to manage their clients' portfolios and ensure their plans are up-to-date. In addition, they carefully analyze financial information provided by clients to create strategies that align with their financial objectives. Edward Jones offers a range of services, including retirement planning, education savings, and tax-efficient investing. Contact Angelica and her team to schedule an appointment and begin pursuing your financial goals with a trusted advisor.
Retirement Planning

401k

Wealth Strategies

Estate and Legacy

Asset Protection Strategies

Financial Analysis

Portfolio Reviews & Risk Assessment
I recently had a call with Angelica and I've got to say, I'm thoroughly impressed! She and her team have a great understanding of the financial industry and are able to explain things in a way that makes sense to me. Angelica took the time to get to know my financial situation and gave me recommendations that fit my goals perfectly. I trust that Angelica has my best interests at heart and I know she'll continue to provide excellent service and guidance in the future. If you're looking for an exceptional and trustworthy financial advisor, I highly recommend Angelica. She's truly amazing.
I am young and wanted to start investing early. Angelica was recommended to me by someone I trust. I had a call with her this week and definitely feel like I have come to the right person. She is confident and willing to answer any questions-- really reassuring that she has my best interests in mind. I loved how she encouraged me to think about long term growth while also making sure I am comfortable with the amount I am deciding to invest. Looking forward to continuing to work with her.
If you are looking for an excellent financial advisor Angelica Prescod and her team are a perfect fit. She's an expert in what she does. She's honest, personable, and passionate about helping everyone have better financial literacy. I am pleased with her service, and I'm optimistic that my future self will be, too, with the advice and expertise Angelica is providing. Oh, and let me not fail to mention she takes out personal time to do monthly market updates via Zoom with all of her clients, allowing everyone to ask questions and provide us with a forecast of what to expect in the market, etc. Angelica and her team are amazing.
Mon-Fri: 9am - 4pm
Sat & Sun: Closed
Nearby Financial Services in Scottsdale: