Merry Maids of East Cincinnati
Merry Maids of East Cincinnati is a well-renowned house cleaning company in Cincinnati. Merry Maids of East Cincinnati is one of the Three Best Rated® House Cleaning Services in Cincinnati, OH.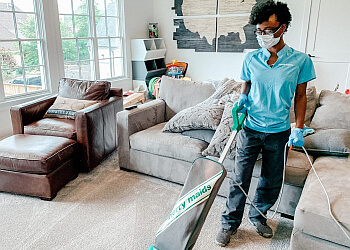 They are bonded and insured for their customer's peace of mind. The company has dedicated and hard-working staff who are committed to delivering quality customer service day in and day out. Merry Maids use eco-friendly cleaning products which are safe for your house and the environment. They take the time to listen and understand your needs. They offer a satisfaction guarantee for their service. If you are not satisfied with their service, contact them, and they will come again and re-clean that area. They offer weekly, bi-weekly, and monthly cleanings to fit your unpredictable schedule. They provide free cleaning estimates.
House

Maid and Housekeeping

Kitchen

Bathroom

Bedroom

Living Room

Enhanced Disinfection Services

Specific Room

Holiday

Specialty

Apartment

Move-In & Move-Out Cleaning Services



Amelia

Batavia

Bethel

Blanchester

Camp Dennison

Chilo

Cincinnati

Fayetteville

Felicity

Franklin

Goshen

Hamersville

Kings Mills

Lebanon

Loveland

Maineville

Mason

Milford

Morrow

Moscow

Neville

New Richmond

Newtonsville

Oregonia

Owensville

Pleasant Plain

South Lebanon

Terrace Park

Waynesville & Williamsburg
Consistent cleaning service. I have used others where the level of cleanliness declined the longer we used the service. We've been with Merry Maids for about a year and our house is consistently clean every time. The staff are professional. Great communication to remind us of appointments, when the staff are coming and going from the house. Highly recommend.
Merry Maids does an excellent job each time they clean our home. Our dogs shed year round & without MM it would be out of control.
Overall, if you get the right person Merry Maids does a great job. We have gotten one person we prefer and asked for only her to come and clean our house every other week.
Discount
20$ Off on your First Weekly or Bi-Weekly Cleanings
Mon-Fri: 7am - 7pm
Sat: 8am - 3pm
Sun: 12pm - 5pm
Nearby House Cleaning Services in Cincinnati: