The Cleaning Authority - Cincinnati
The Cleaning Authority-Cincinnati is a prominent house cleaning company in Cincinnati, OH. The Cleaning Authority - Cincinnati is one of the Three Best Rated® House Cleaning Services in Cincinnati, OH.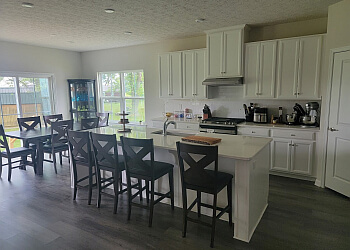 They are fully bonded and insured for their customer's peace of mind. Their cleaning technicians are professionally trained to provide quality cleaning services. The Cleaning Authority uses environmentally responsible cleaning products which are safe for the environment and your house. Their cleaning employees follow a detail-clean rotation system to ensure that each and every part of your house is cleaned up to their standards. Customized cleaning plans are available to meet the unique needs of their customers within their budget. They offer a satisfaction guarantee, if you are not satisfied, contact them they will come again and reclean that area. You can get a free quote through their website.
House

Apartment

Kitchen

Bathroom

Bedroom

Sleeping Area

Living Areas

Hardwood Floors

Furniture

Window Ledges

Blinds & Baseboard Cleaning Services



Cincinnati

Mason

Milford & Loveland
I found the 2 ladies that cleaned my home pleasant, professional, and very hard workers. They did a great job, and I hope they are the cleaners that come back & do our future cleanings. Would definitely recommend both the company & the workers who cleaned my house to family & friends!
Courtney, Heather and Stacy were excellent in our initial visit from The Cleaning Authority. We have pets and cleaning can be a challenge but they were flexible and very endearing to our pets. We felt very comfortable with them and truly feel the house is cleaner than ever before! Thank you, guys!!
Very impressed. Have used other companies in the past, so glad to have found the Cleaning Authority!!! They are great. Coming home to a spotless house feels so good and relaxing.
Mon-Fri: 8am - 5pm
Sat & Sun: Closed
Nearby House Cleaning Services in Cincinnati: