Airmech Heating and Air Conditioning
Airmech Heating and Air Conditioning is a professional heating and cooling service business in Elk Grove. Airmech Heating and Air Conditioning is one of the Three Best Rated® HVAC Services in Elk Grove, CA.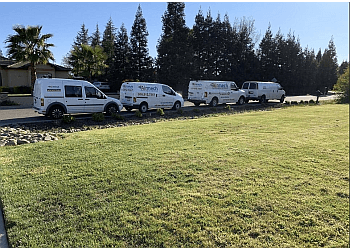 The company has built its reputation on speed, honesty, and affordable prices. They aim to offer you the best heating and air conditioning repairs and replacements with the high-quality client service you deserve. They also supply multiple different brands of air conditioning units. Their professional service technicians will come out to your home day or night to make a diagnosis of your furnace and begin repairs. Their technicians are trained and well-equipped to replace your existing air ducts. They strive to provide 100% customer satisfaction. Financing options are also available. In addition, Airmech offers free estimates and 24/7 emergency services. Call them today to schedule an online appointment.
Diagnostic

Residential Heating

Wall Heater

Furnace Repair and Maintenance

Air Duct Cleaning

and Comfort Maintenance

Conditioning Services & Repair
I called Airmech for service call for one of our customers. They were very professional over the phone. I was able to schedule a service call for one of our customers, Airmech had my customer on their calendar that day for the same week. The follow-up of the services/repairs that they had done were great! The technician was able to get my customer's heating working again. Great professional company. I look forward to using them in the future, when needed!
I called Airmech to have a common wire connected so I could install a smart thermostat. They were able to book the appoint very quickly. Sam was the tech who connected the c-wire for me. He was really fast, friendly, knowledgeable, and professional. The price Airmech charged beat just about everyone I called. It saved me a trip up into our attic, so it was money well spent and for quality service!
Last year my HVAC system was about to fail. I called several companies for quotes on a replacement. I researched the systems that all the companies had to offer. I decided to use Airmech based on their reviews and the system that they recommended. The price of the system was considerably less than the other companies. The service that was provided was excellent! The installation was without any problems.
Nearby HVAC Services in Elk Grove: