Sang Hwa Lee, Esq. - Lee Immigration Law Firm
Sang Hwa Lee, Esq. Sang Hwa Lee, Esq. - Lee Immigration Law Firm is one of the Three Best Rated® Immigration Lawyers in Jersey City, NJ.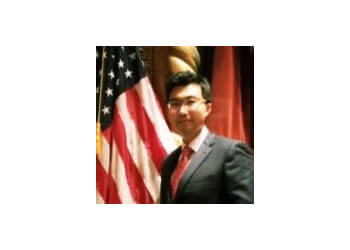 serves as the managing partner at Lee Immigration Law Firm, where he earned his JD from Roger Williams University School of Law. His area of expertise revolves around offering guidance to clients on matters related to professional and business immigration. Lee Immigration Law Firm specializes in a wide range of immigration law aspects and is dedicated to providing top-notch legal counsel and services to both individual and corporate clients. The firm is committed to excellence, ensuring thorough and high-quality legal analyses to effectively achieve clients' objectives. With extensive experience spanning over 30 years, Lee Immigration Law Firm has a successful track record of securing numerous approvals for various immigration applications, including temporary visas, green cards, and US citizenship applications. The highly skilled team at the firm is equipped to support clients throughout the entire process, including handling paperwork, representing clients at hearings, and assisting with other legal proceedings.
Specialty Occupation (H-1B)

Business Transferee (L-1)

Treaty Trader (E-1)

Treaty Investment (E-2)

Extraordinary Ability (O-1)

Exchange Visitor (J-1)

Student (F-1)

and Extensions of Tourist Visas (B-1/B-2)

Green Card & Us Citizenship Applications
I have had an excellent experience with Lee Immigration Law Firm. When it was time to apply for my working visa, my employer contacted Lee Immigration Law Firm, because mr.Lee has been working with my firm for years, providing immigration services to all the international employees. Indeed, mr.Lee was very helpful and responsive throughout the process- from day one to the day I finally got my working visa. Also, although I am based in Los Angeles, mr.Lee always answered my emails promptly, regardless the time difference. I highly recommend this firm!
Lee Immigration Law Firm helped my wife and I file multiple immigration visa applications and more recently our green card applications, all of which were successful. Sang was very efficient and prompt with regards to answering our questions, provided some in-depth guidance and helped us greatly throughout the entire process. Immigration applications can be somehow stressful but thanks to the expertise of Mr. Lee we were confident that everything will go well, which it did. Thank you again Sang for the useful advice and the quality of your work!
Sang has helped me with multiple immigration visas as well as green card application. He is knowledgeable and accessible. On top of that, he is also very generous in giving advice. My applications were all a bit more complicated than normal, but his experience allows him to prepare each application in such a way that would maximize the probability of success. Sang. thanks again for all the help you have given throughout the years!
Mon-Fri: 9am - 6pm
Sat & Sun: Closed
Nearby Immigration Lawyers in Jersey City: