MVP Network Consulting, LLC
MVP Network Consulting, LLC is a renowned and highly respected IT service provider that delivers comprehensive solutions to small and medium-sized companies. MVP Network Consulting, LLC is one of the Three Best Rated® IT Services in Buffalo, NY.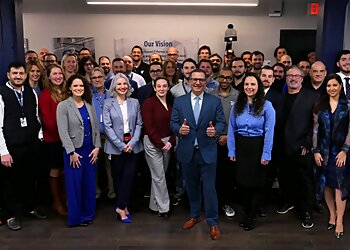 With their expertise and dedication, they offer a complete range of IT services, including designing, implementing, and managing IT infrastructure, to meet the diverse needs of their clients. Their hands-on and personalized approach to technology sets MVP Network Consulting apart. They understand that every business is unique, and they leverage the depth of their expertise to tailor solutions that align with their client's specific requirements and help them achieve their business goals. MVP Network Consulting values building relationships based on trust and integrity, aiming to be a trusted partner in their clients' IT journey. With a strong focus on compliance, MVP Network Consulting brings extensive expertise in HIPAA and PCI audits and compliance. They ensure that their clients' IT systems meet security and regulatory standards, providing peace of mind and mitigating risks.
Cloud Backup

Disaster Recovery Planning

Managed IT Services

HIPAA Compliance

Pos Works

Development Services

Domain

Vo Ip/Phone

Cloud-Computing

Mvp Total Protection

Telephony Solutions

Network Security

Business Continuity

Security Patches

On-Site Support& Data Backup
As a IT Support Specialist of SaveOnSP, MVP seriously has been a backbone of our operations. From deployment of new hire deployment, to maintaining our infrastructure, we are so happy and thrilled to have such a great company at our disposal for our company needs. Cheers and proud to have you served our community for 20 years and for many many more. Thank you sincerely.
Wonderful group of employees. Having them as a backbone to our business has been a great companion. Always there as our support, never question what they can do. Very knowledgeable staff. If I could give 10 stars, I would. Best to your future.
We at The Carey Firm, LLC have been a client if MVP for almost 8 years now and we couldn't be happier. Their prompt response to our IT issues is always a step above. We would highly recommend them to anyone in need of IT services.
Mon-Fri: 8:30am - 5pm
Sat & Sun: Closed
Nearby IT Services in Buffalo: