The Old Spaghetti Factory
The Old Spaghetti Factory stands as a premier Italian restaurant, with a proud presence in more than 40 locations across 13 states. The Old Spaghetti Factory is one of the Three Best Rated® Italian Restaurants in Salt Lake City, UT.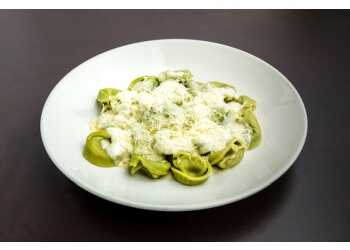 As a family-owned and operated business since 1969, it has delighted patrons with its exquisite 3-course meals. One of the distinctive features of The Old Spaghetti Factory is the charming dining area, housed within a beautifully redesigned Trolley Car. This unique touch adds an extra layer of nostalgia and ambiance to the dining experience. Among the restaurant's renowned dishes, the Breast of Chicken Fettuccine, Garlic Mizithra, and Pot Pourri are particular favorites among guests. Additionally, indulge in their signature dish, the Fettuccine Alfredo, where perfectly cooked fettuccine noodles are delicately coated in a buttercream sauce and generously topped with shredded Romano cheese. The Old Spaghetti Factory takes pride in creating a memorable dining experience, blending exceptional cuisine with a warm and inviting atmosphere.
MENU: Appetizers

Caesar Salad

Fettuccine Alfredo

Spinach and Cheese Ravioli

Baked Lasagna

Garlic Mizithra

Orange Cream Shake

Chicken Parmigiana

Pasta Classics

Mushroom Sauce

Mizithra Cheese

Pot Pourri

Desserts

Sicilian Meatballs

New York Cheesecake

Sides & Strawberry Lemonade
Our favorite Italian restaurant …. food and service are the reason why we are regulars here.. at least once a month. I used to bring my kids.. they're now grownups but we still gather fun memories and delicious selections.
I love this place. It's a must visit if you're ever near their locations. The staff are friendly and the food is terrific. I ordered the spaghetti vesuvius.
10/10 simply perfect - the Sicilian garlic bread was excellent! The service is quick and attentive. We had a great time. I recommend this.
Appetizers Starts from $11.89
Founder's Favorites Starts from $22.69
Factory Favorites Starts from $22.69
Pasta Classics Starts from $16.19
Signature Pasta Starts from $21.99
Savory Chicken Starts from $23.99
Sides Starts from $2.09
Gluten Friendly Menu Starts from $12.19
Mon-Thu: 11:30am - 9:30pm
Fri: 11:30am - 10pm
Sat: 12pm - 10pm
Sun: 2pm - 9pm
Other Italian Restaurants in Salt Lake City: