Swan House at Atlanta History Center
Swan House at Atlanta History Center, located in Atlanta, Georgia, is a mansion originally built for Edward Inman in 1928. Swan House at Atlanta History Center is one of the Three Best Rated® Landmarks in Atlanta, GA.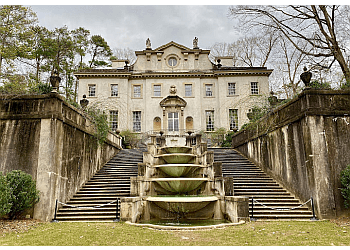 Today, the house is part of the Atlanta History Center and offers visitors a glimpse into a world of community, commerce, luxury, and comfort. Guests can engage with knowledgeable Swan House guides, examine all the intricate details, and explore all four floors of the building. The house features stunning gardens and fountains, and guests can enjoy spectacular views from various vantage points. They offer a diverse array of attractions on their 33-acre campus, including award-winning exhibitions, historic houses, and gardens. To ensure you have the best possible experience, they have created a planner that provides an overview of their must-see offerings tailored to your interests. Tourists can explore many rooms in the beautifully restored historic home, including the foyer, dining area, and lobby. Atlanta History Center offers an extraordinary combination of history, education, and excitement, promising unforgettable experiences for those seeking such an adventure.
Art Gallery

Ancient Kitchen

School and Group Tours

Gift Shop

Living and Dining Room

Historical Building

Private Events & Library
I have attended a baby shower and wedding shower. They were both beautiful. I highly recommend the Swan House.
Beautiful house surrounded by walking trails. Worth a visit. A self guided tour allows virtually unfettered access to the entire home.
Really cool old house. The guided tours they used to have were fun and wish they still had them.
Adult (13–64) $24
Senior (65+) $20
Student (13+ with valid student ID) $20
Youth (4–12) $10
Members & Child (0–3): Free
Discount
$2 Off for 2 Admissions Tickets
Tue-Sun: 9am - 4pm
Mon: Closed
Nearby Landmarks in Atlanta: