Fail Safe Electric Company
Fail Safe Electric Company is one of the leading electrical companies in Naperville. Fail Safe Electric Company is one of the Three Best Rated® Electricians in Naperville, IL.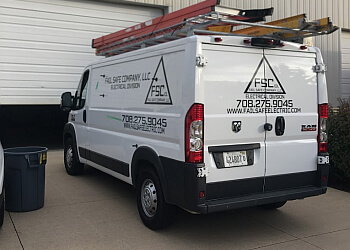 They specialize in serving both commercial and domestic properties. With full licensing, bonding, and insurance, they prioritize your peace of mind regarding their services. Their team of licensed electricians is equipped to handle any electrical problem you may encounter, going above and beyond to ensure your satisfaction with their work. Whether it's a simple task like installing ceiling fans or more extensive projects such as rewiring your home, Fail Safe Electric Company has the expertise to handle everything. They also excel in maintaining and servicing various appliances, including lights, freezers, refrigeration units, furnaces, stoves, and sump pumps, especially during short or long-term power outages. Offering free and accurate price quotes, they stand behind their work by providing a guarantee on all their services.
Residential and Commercial Services

Smoke Detector

Generator

Lighting

Outlet Repair

EV Charging Station

Electrical Panel

Wiring Installation & Repair
I had to have an outdoor house light moved to a different location on the house. Lee & Armani did a great job! They listened to what I had to say and explained everything they did very well. I highly recommend their services and will using them for any further electrical needs in the future.
I would strongly recommend Fail Safe. I called at 8 a.m. and they had someone out in the afternoon to look into an issue with flickering lights. They were able to identify the exact cause and fix it on the spot. They were very knowledgeable and answered my questions so I could learn more about the problem. I'm very happy with my service.
They were awesome. Usually several LED pot lights in my kitchen. I felt they were very reasonably priced and very experienced.
Nearby Electricians in Naperville: