Albuquerque Discount Movers
Albuquerque Discount Movers is a locally-owned and operated business located in Albuquerque with over 33 years of valuable experience in the moving industry. Albuquerque Discount Movers is one of the Three Best Rated® Moving Companies in Albuquerque, NM.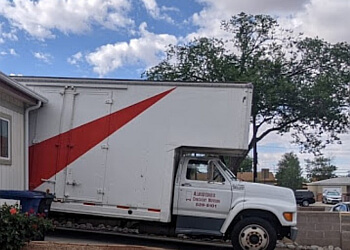 Their team consists of highly trained and professional individuals who take the time to fully understand your specific moving requirements. With their expertise, they can safely and efficiently handle the relocation of your valuable personal or office belongings. To ensure the utmost safety during the move, both their team and trucks are fully insured. They offer a comprehensive range of services aimed at securely transporting your belongings to their new destination. As dedicated professionals, they prioritize exceptional customer service and will collaborate closely with you to meet your unique needs and preferences. Additionally, Albuquerque Discount Movers provides the convenience of disassembling and reassembling your furniture, placing each piece precisely in the desired room. For added ease and peace of mind, they are more than happy to provide a free estimate upon contact.
Home

Office

Local

Long Distance

and Senior Moving

Furniture Assembly and Disassemble

Packaging Services

and Materials

Furniture Moving

Loading

Unloading

Storage Services

Packing

Unpacking

& Crating
I have used Albuquerque Discount Movers a few times in the past and also again today to help move my parents belongings. Tina who does the scheduling has always been very responsive, nice and follows up quickly. The movers, each time, have been professional, hard working, speedy and friendly. One of the movers today, Joe, even helped my mother with something unrelated to moving, but that she needed help with, and that went above and beyond. I can highly recommend this company.
It is the 3rd time, in 3 consecutive years, I hire Albuquerque Discount Movers, and they have been Exceptionally Excellent each time I hired them. They have save me out of situations, I couldn't overcone without their help, by the Grace Of God. I Highly Recommend Albuquerque Discount Movers. They are Diligent, and surely have earned my trust. May they have many years of Success.
Albuquerque discount movers were very professional. They confirmef the day before and the driver texted me the morning of the move. The quote and what I paid for were the same. I paid $430 for a 3-hour move but that included the travel time, the fuel and taxes. They were very fast and very efficient. Tina at the office was very nice and listed all the prices and was true to her word. I would move with them again.
Mon-Sat: 8:30am - 7pm
Sun: Closed
Other Moving Companies in Albuquerque: