John H. Choi, Esq. - JOHN H. CHOI & ASSOCIATES LLC
John H. John H. Choi, Esq. - JOHN H. CHOI & ASSOCIATES LLC is one of the Three Best Rated® Patent Attorney in Jersey City, NJ.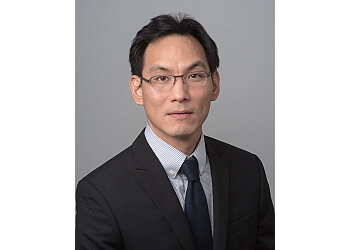 Choi, Esq is an accomplished intellectual property attorney who leads the team at John H. Choi & Associates LLC. He completed his JD at Catholic University, Columbus School of Law. With a comprehensive understanding of intellectual property law, John possesses extensive experience in all its facets. His client base spans from individual inventors to the world's largest camping tent manufacturer, encompassing both domestic and international entities. As a dedicated advisor and counselor, John prioritizes delivering high-quality service to his clients. He applies his wealth of experience and personal attention to every case he handles. John H. Choi & Associates LLC provides a wide range of legal services catering to clients of diverse backgrounds, from individual inventors to large corporations. The firm specializes in procuring, enforcing, and defending intellectual property rights. They take pride in their collaborations with highly successful engineering and technical experts across various industries, fostering strong relationships throughout their work.
Patent

Trademark

Infringement

Copyright Prosecution

Validity and Freedom to Operate Opinions

IP Licensing

Litigation & Due Diligence
I found John through a Google search while looking for infringement attorneys. John is exceptionally professional and knowledgeable. He took his time to listen to my concerns and already had a plan of action that we needed to take. I am satisfied with the outcome of this matter and recommend John and will use him in the future for my needs.
I'm a recording artist looking to Protect my Brand and John helped me in ways I couldn't imagine! He's very intelligent, knowledgeable, Responsive, and Patient! I literally cried tears because he was able to help me when nobody else would. He's my GO-2 attorney for all of my intellectual property! I HIGHLY!!! Recommend that you use John and his company for all your Patent & Trademark needs and many other services! John Will make sure that your brand is protected not only for you but for many generations to come! Many Blessings to you John!
John's expertise is exceptional hands down. My company's legal documents were reviewed in great detail and the progression of our movement forward hasn't stopped since John has been our legal advisor. Perceptive, objective and visionary are some adjectives that may be used to describe John's work. Above all else, his integrity, availability, cost effectiveness, and valuable experience has really made an impact. I whole heartedly recommend John to any company from start ups to "Fortune 500" companies.
Mon-Fri: 9am - 5pm
Sat & Sun: Closed
Nearby Patent Attorney in Jersey City: