Dr. Paul Yang, OD - Yang Optometric Center
Dr. Paul Yang, OD - Yang Optometric Center is one of the Three Best Rated® Pediatric Optometrists in Anaheim, CA.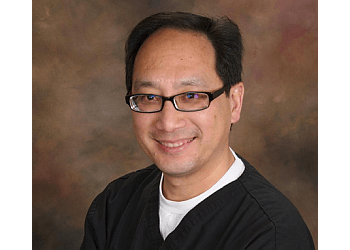 Dr. Paul Yang is a graduate of the Southern California College of Optometry, equipped with a wealth of knowledge and experience in the field. With a diverse patient base ranging from newborns as young as six hours old to individuals who have reached the age of 102, Dr. Yang has worked with patients of all ages. Having personal experience with vision challenges, including severe nearsightedness, astigmatism, dry eyes, chronic allergic conjunctivitis, and glaucoma, Dr. Yang brings a unique perspective to his practice. His firsthand understanding of these conditions allows him to empathize with his patients and provide specialized care. Dr. Yang's expertise extends beyond his clinical work. He has served as one of only seventeen chief examiners for the National Board of Examiners in Optometry (NBEO), demonstrating his commitment to advancing the field and ensuring the highest standards of optometric education and practice. He is a member of esteemed organizations such as the Optometric Retina Society and the Optometric Glaucoma Society. Dr. Yang is also certified in fitting specialized lenses, including ZenLens, Zen RC, Zen Multifocal, Paragon CRT, and Focus Night and Day lenses. Recognizing the importance of low vision care, Dr. Yang has undergone specialized training at the Center for the Partially Sighted, enhancing his ability to provide assistance to individuals with visual impairments. At Yang Optometric Center, Dr. Yang and his team are dedicated to providing exceptional service. They offer 24-hour emergency care to address urgent eye care needs. Additionally, the center provides fully customized glasses lenses to ensure that each patient's unique vision requirements are met. Dr. Paul Yang's comprehensive expertise, commitment to ongoing education, and personalized approach to patient care make Yang Optometric Center a trusted destination for quality eye care services.
Comprehensive and Diabetic Exams

Pediatric Care

Chronic Allergic Conjunctivitis

Plaquenil Screening

Red

Dry Eye Evaluation and Treatment

Cataract

Glaucoma

Macular Degeneration

Keratoconus

Ortho K Contact Lens Fitting

Foreign Body Removal

Corneal Abrasions

Cosmetic Procedures

Lasik & PRK
Dr. Yang and his entire staff are the greatest. He will work with you until everything is perfect. I would recommend him highly.
Always a friendly, inviting atmosphere. They don't try to sell you un-necessary options just great service and always helpful. We travel from out of town to come here.
Great place to get an exam and eye glasses. Very entertaining , knowledgeable and loves his work.
Mon-Fri: 8am - 5pm
Sat: 8am - 12pm
Sun: Closed
Nearby Pediatric Optometrists in Anaheim: