Huy Huu Tran, OD - Clarity Eye Care
Huy Huu Tran, OD - Clarity Eye Care is one of the Three Best Rated® Pediatric Optometrists in Grand Prairie, TX.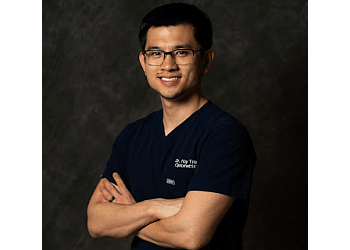 Dr. Huy Tran is a licensed Therapeutic Optometrist and Optometric Glaucoma Specialist with comprehensive training in the treatment and management of ocular diseases. He is highly skilled in fitting both soft and hard contact lenses. Additionally, Dr. Tran is fluent in Vietnamese, facilitating effective communication with Vietnamese-speaking patients. Growing up in Arlington, Texas, Dr. Tran achieved academic excellence, graduating as the Valedictorian of his class from Juan Seguin High School. He further pursued his passion for optometry by earning a Bachelor of Science degree in Biology, with minors in Chemistry and Business Administration, from the University of Texas at Arlington, where he graduated Summa Cum Laude. Driven by his dedication to the field, Dr. Tran pursued his Doctorate Degree in Optometry at the prestigious University of Houston College of Optometry (UHCO). During his time at UHCO, he received a Clinical Letter of Excellence for his exceptional patient care, was invited to join the esteemed Beta Sigma Kappa International Optometric Honor Society, and graduated Summa Cum Laude. An actively involved professional, Dr. Tran is a member of various prominent optometric associations, including the American Optometric Association and the Texas Optometric Association. He is also associated with local organizations like the Tarrant County Optometric Association and Dallas County Optometric Association, contributing to the advancement of eye care in his community.
Comprehensive Eye Exam

Pediatric Eye Exams

Contact Lens Exam

Ortho K

Myopia Management

Dry Eye Treatment

Glaucoma Testing

Cataracts

Eye Emergencies

Low Vision

Demodex

Pink Eye

Macular Degeneration

What to Expect During an Eye Exam

Refraction Test & Corneal Refractive Therapy
We have seen Dr. Huy Tran since 2019. We always have great times there. Dr. Tran usually explains the procedure in both English and Vietnamese to make sure we understand what's going on. We do appreciate Dr. Tran's patience and profession.
I went here to get my eyes checked up today with my family, as well as getting my contact lenses done. The employees there were quick and friendly. Also very affordable without insurance. Dr. Huy Tran is a phenomenal doctor, He's very knowledgeable and informative. Dr. Huy Tran carefully explained in details how the process was done and what those results mean, not a lot of places do that because Dr. Huy Tran cares about his patients. He was also very friendly, he treated his patients like family. 10/10 !
Great experience! Dr. Huy was very knowledgeable, attentive, and professional. Spends time with you and answers all my questions.
Mon-Fri: 9:30am - 1:30pm|
2:30pm - 6:30pm
Sat: 9am - 1:30pm|
2:30pm - 3pm
Sun: Closed
Nearby Pediatric Optometrists in Grand Prairie: