Yumul Danilo S, MD - March Lane Pediatrics Group
Yumul Danilo S, MD - March Lane Pediatrics Group is one of the Three Best Rated® Pediatricians in Stockton, CA.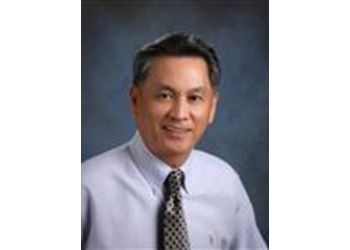 Dr. Yumul Danilo is a prominent pediatrician who earned his Medical Degree from the University of Santo Tomas Faculty of Medicine & Surgery in 1976 and completed his residency at the University Hospital. With over 46 years of experience, he specializes in Pediatric Care and offers health exams and treatment for common childhood illnesses. As a pediatrician, Dr. Yumul is a healthcare provider who specializes in offering comprehensive medical care to children, including infants, kids, and teenagers. He is trained to provide a broad range of health services tailored to the unique needs of young patients. Dr. Yumul currently practices at AAR Pediatric Group and is affiliated with St. Joseph's Medical Center Stockton. He serves in three locations, including Stockton, CA, and is proficient in English and Tagalog. Dr. Yumul accepts new patients and telehealth appointments.
Injuries

ADHD

Asthma

Fever

Wellchild Visits

Infections

Stomach Diseases

Vaccination

Newborn Care

Cold

Viral Infections

Ear Ache

Urinary Disorders & Cough
I absolutely love Dr. Yumul and his Staff members if you're looking for a Doctor that really cares about your children's health I highly Recommend Dr. Yumul I have been taking my own Children and Grandchildren to this medical office since 1983 and they treat us just like family.
He is an amazing Dr! He was my physician when I was a kid and now I'm a mom, he's my son's primary Dr.
I have taken my children to this practice I have taken my grandkids, my nieces and nephews take their babies and children there. The doctors are over the top..
Aetna, Blue Cross Blue Shield of California, Blue Cross Blue Shield & Cigna
Mon-Fri: 8am - 5pm
Sat & Sun: Closed
Nearby Pediatricians in Stockton: