Penney and Associates Injury Lawyers
Penney and Associates Injury Lawyers is a dedicated personal injury law firm that provides legal representation to clients who have suffered injuries or fatalities in various incidents, including car accidents, other auto accidents, and cases involving dog bites and animal attacks. Penney and Associates Injury Lawyers is one of the Three Best Rated® Personal Injury Lawyers in Santa Clara, CA.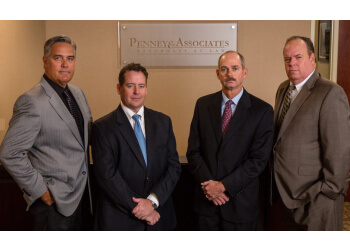 For over 25 years, the attorneys at Penney & Associates Injury Lawyers have been serving numerous clients in Santa Clara and throughout Santa Clara with unwavering commitment. With decades of combined experience in personal injury law, their attorneys have successfully assisted thousands of clients in securing just compensation for their pain and suffering, both in and out of court. Whether you require assistance in obtaining financial settlement for medical bills, lost wages, pain and suffering, or loss of ability to work, their team is fully equipped to support you or your loved one through the process. Beyond Santa Clara, Penney and Associates Injury Lawyers also has additional offices in Fairfield, Sunnyvale, San Francisco, San Diego, and Southern California, further solidifying their dedication to helping injury victims throughout the region.
Elevator and Escalator Accident

Aviation

Trucking

Serious Injuries

Wrongful Death

Dog Bites

Car

Truck

Motorcycle

Boating

Bicycle

Slip & Fall Accidents
Kevin and Seth supported my case and my experience was positive. Ultimately whether you actually want to go to trial or not, it's important that the firm is willing to because that makes everything they say to to the opposition real -- and the opposition will know the difference. This was something I learned along the process and was happy to see that the firm does stand by what they say. 5 stars.
Fred consulted us on our car accident with injury. He was very knowledgeable and insightful. He provided great consul. We are grateful for his recommendation and advise. Strongly recommends his service and advice.
I was one of Fred Penney's first clients 22 years ago. He was then and now the kind of person that always returns your calls never forgets you and makes you feel like family. Not only did he handle my case all those years ago and WIN but he and his staff were attentive and quick to respond. Fred Penney and Associates were and are they best Attorneys and Firm you will find!!!
Mon-Fri: 8:30am - 5pm
Sat & Sun: Closed
Other Personal Injury Lawyers in Santa Clara: